Music Review with Charlie Cudnik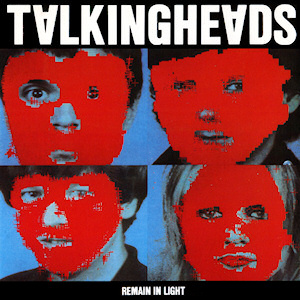 Hello Saint Edwards. Due to Keagan and Tommy being on retreat as of recording, I, Charles Cudnik, will be substituting the Saint Edward film review with The Charlie Cudnik music discussion! On this episode I will be dissecting and reviewing the classic, seminal album from beloved 80s new wave Group Talking heads, Remain In Light! 
This album was released in 1980 and saw the band continue to experiment with their very nervous, frantic energy with electronic producer, Brian Eno. The recording sessions for this album were very bizarre, especially for the standards of the time. The band would record a snippet of them playing and loop it and repeat it for the duration of the song, and then build and layer more and more instruments on top, which was  outrageously ahead of it's time for 1980, and is the way in which almost all modern music is recorded to day, which is part of the reason I think this album stand out as much as it does today.
There are a lot of incredibly tight, and huge, almost sensory overloading grooves on this album, and it really just makes a lot of these songs just explode with energy. I feel like this album, although very futuristic, taps into a primal part of the human psyche. All of these songs have a very anxious edge to them, but remain incredibly groovy and danceable, and it's this fear that makes the listener want to dance, and want to move in order to release this nervous energy.
However, as the album progresses, we get a bit of a cool down, as on side B, we get much more spacious and almost psychedelic cuts, which are quite ominous. These tracks are great too, but if I'm being honest, I'm just a little bit more partial to side A of this record, I just find it a little more engaging. 
I will now go over some of my favorite  tracks of the album: Crosseyed and Painless, Killer groove, ethereal harmony, explosive percussion, and really highlights some of the band's afrobeat influence. The Great Curve is probably the most energetic and frantic cut on the record, with surreal imagery of this remote control dancer, and this strange fear of the world itself and government control that are hinted at. Larger than life sound. Of course, the song most people know from this record, Once in a Lifetime, with its glistening background instrumentation, spoken word and iconic hook that is meant to sound almost like a gospel call and response. Finally there is the incredibly ominous Seen and not seen, which has some very beautiful glistening synths that are very strongly juxtaposed by these disturbing spoken word lyrics by the band about vanity, and one person trying to change the appearance of their face in order to match those of his ideal. Chilling. I would give this album approximately a 93% on my patent pending album percentage scorer. If you're looking for a record with funk grooves, eccentric vocals, huge instrumentation, and a dystopian atmosphere, be sure to give this Remain in Light by Talking Heads a listen, see if it's for you.