The Academy Award Frontrunners for Best Picture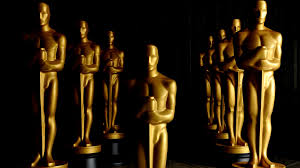 Adam Jones `14
Her    Directed/Written by: Spike Jonze                Starring: Joaquin Phoenix, Rooney Mara
A newly divorced man in a world in the near future purchases an OS (operating system) to serve as his assistant. He falls in love with his OS named Samantha (voiced by Scarlett Johansson) and must reevaluate his life and the relationships that fill it.
12 Years A Slave    Directed by: Steve McQueen        Starring: Chiwetel Ejiofor, Brad Pitt
Solomon Northup, a gifted violinist in antebellum United States, is tricked into slavery. He is purchased by multiple masters played by Benedict Cumberbatch and Michael Fassbender. His will to survive will be tested as he makes his way back to his family.
American Hustle    Directed by: David O. Russell    Starring: Christian Bale, Amy Adams
A gifted con artist and his female lover/protege must work with the FBI to bring down politicians involved in the mafia. The mayor of Camden, New Jersey is their main target, but the con artists wife may mess up the whole operation.
Gravity    Directed by: Alfonso Cuaron        Starring: George Clooney, Sandra Bullock
Two astronauts in space are on a routine spacewalk when their tether breaks. They spiral through space with nothing but each other. They must figure out a way back to Earth before their air supply runs out.
The Wolf of Wall Street    Directed by: Martin Scorsese        Starring: Leonardo Dicaprio
The true story of Jordan Belfort, a stockbroker on Wall Street who was repeatedly investigated by the FBI for fraud and mob involvement. His extravagant lifestyle and disregard for the law lead him from great wealth to trouble.
Inside Llewyn Davis        Directed by: The Coen Brothers    Starring: Oscar Isaac
A story of Llewyn Davis, a folk singer in 1960's Greenwich Village. It follows his struggle to find money and a place to perform, along with troubled partnerships and relationships. The entirety of the plot takes place in just one week.
Nebraska    Directed by: Alexander Payne        Starring: Bruce Dern
After receiving a letter that he won a sweepstakes, a father believes he has struck it rich and brings his son along for the journey. The trip, from Montana to Nebraska, highlights family life in the Midwest of America.

Blue Jasmine         Directed/Written by: Woody Allen        Starring: Cate Blanchett
After losing her husband and his fortune, Jasmine moves to San Francisco to live with her sister. In this new environment, Jasmine must accustom herself to a simpler life filled with people that are less polished than she is use to.