Encanto = Enchantment: A Movie Review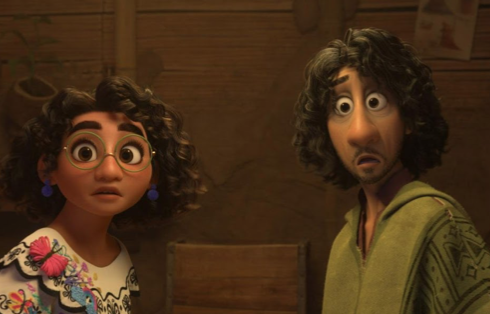 In the mountains of Columbia, there lives a miracle. A gift that burns brightly like a candle and helps those around her. That candle is inside a house that quite literally feels alive and in that house is an extraordinary family. La Familia Madrigal…
It took many months, lots of peer pressure from those around me, and an hour and a half that felt like it went by too fast to get me to review one of my new favorite movies to date, ENCANTO!! I have no idea what you've heard about Encanto but just know that if it was "It's a great movie" or simply the words "We don't talk about Bruno…" they are true. So before I say any more about the film let's get into the film summary…
Plot summary (According to IMDB):
Encanto tells the tale of an extraordinary family, the Madrigals, who live hidden in the mountains of Colombia, in a magical house, in a vibrant town, in a wondrous, charmed place called an Encanto. The magic of the Encanto has blessed every child in the family with a unique gift from super strength to the power to heal-every child except one, Mirabel. But when she discovers that the magic surrounding the Encanto is in danger, Mirabel decides that she, the only ordinary Madrigal, might just be her exceptional family's last hope.
My thoughts:
I acknowledge the fact that I have been positive so far about Encanto because all-in-all it is a decent movie. If I were to state-specific things I enjoy I would simply say it's a funny movie with themes of family trauma and a great and surprisingly easy-to-understand plot. 
However, there are some problems I had with the movie, specifically the ending. *Spoilers* Essentially at the end, the house collapses and the miracle is lost, there's a touching scene where the grandma, a bit convolutedly, changes for the better and acknowledges Mirabel as her granddaughter and as part of the family and in my opinion they could've ended it with their powers being gone and they rebuilding the house and becoming a happy and functional, normal family. BUT in the end, even if the miracle is gone and the house it is destroyed, once they rebuild… THEY HAVE THEIR POWERS AGAIN!?!?! 
I know that I just talked about a minor part of the movie, but a few factors really annoyed me. Maybe it was hyped up too much for me but if you are looking for a decent family movie and you aren't annoyed as easily by small details like that, then you'll love it, but if you are a teenager try and watch it with family or friends. It is better that way in my opinion.
Conclusion:
Basically, it is a kids' movie, what can I say? It is surprisingly touching, and I know that in my personal opinion, the movie gets you to genuinely care about The Madrigals. You start to understand why they act the way they do and you want them to get their happy ending.
Encanto is truly a good movie and probably my second favorite next to the princess bride. There are funny bits like at the beginning with kids drinking too much coffee and being REALLY hyper and basically every scene with Bruno. He's very relatable and almost every scene he's in is either serious or laugh-out-loud funny.
My Rating: 
8.5 We-Don't-Talk-About Brunos out of 10