Nest News: Spanish NHS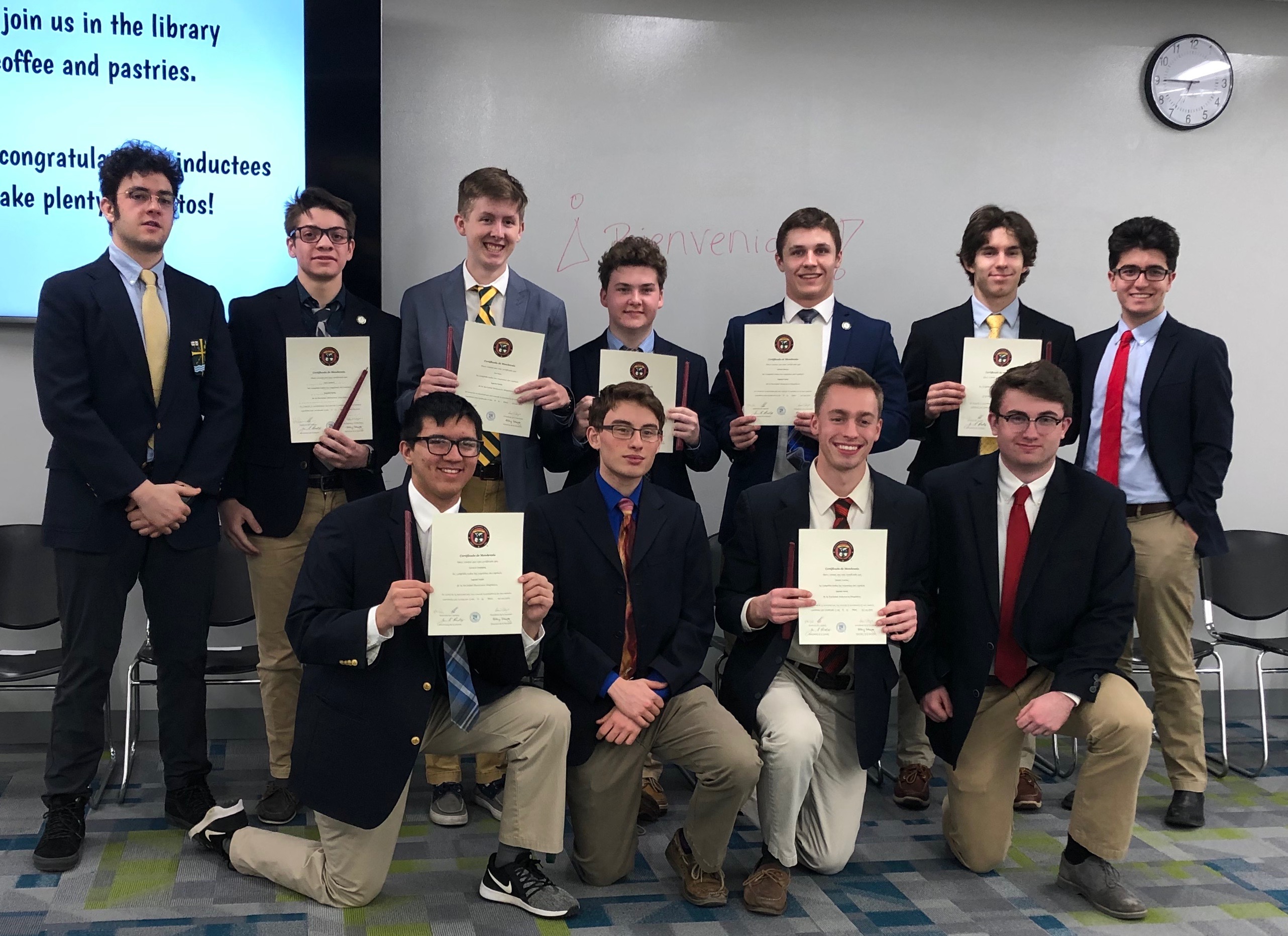 1 March 2019 – Rami Moussa
Last night, the Spanish Honor Society host St. Edward families for the induction ceremony of its newest members. The SHH was founded by American Association of Teachers of Spanish and Portuguese in 1953. The St. Edward Chapter, appropriately named "The Sacred Family," was founded in 2014 thanks to the efforts of Sra. Sherie Quinn. Their motto is "All together" with red and gold as their group colors.
The new members included seniors Cameron Carandang and Brandon Sherrard along with juniors Adam Caroscio, Kurt Franz, James Hurst, Michael Manning, and Corey Stofko.  The ceremony was conducted by senior members Logan Bridegum, Rami Moussa, Roberto Flores, and Paul Schweibinz along with chapter moderators and Spanish teachers, Sra. Sherie Quinn and Sra. Mariana Martinez.
As with all things at St. Edward, the ceremony started with an opening prayer by Bridegum. Our principal, Mr. Reed, then welcomed parents sharing a personal story with a send-off for students to pursue greater world understanding by applying new perspectives and approaches to life through education. Some video clips were also shared by chapter members and moderators about the history of the Spanish language, ending with a big laugh. Flores shared a bible passage about language in Spanish, just before Schweibinz presented a masterfully edited video of interviews of language students of the past and present, discussing their experiences and the values of learning another language. Carandang then shared the history of the SHH. Rami Moussa began the presentation of inductees, as the students lit their individual candles. The moderators then assisted in the declaration of the induction oath to end the night. After the ceremony, everyone mingled and enjoyed treats, excited for the future of the Sociedad Honoraria Hispánica.
Congratulations to all new members! For more information about the SHH, contact Sra. Sherie Quinn or Sra. Mariana Martinez.