Christmas Miracle: Revisiting Playboi Carti's Whole Lotta Red Two Years Later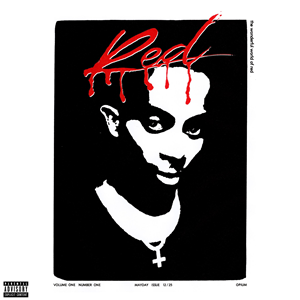 Christmas Miracle: Revisiting Playboi Carti's Whole Lotta Red Two Years Later
On Christmas 2020, Atlanta-based hip hop artist Playboi Carti released his third studio project: the highly anticipated Whole Lotta Red. Before it came out, Carti's previous album, Die Lit arrived in May, 2018, and in between this release and WLR, the only reassurance that another album would be coming besides a few lackluster singles and numerous leaked tracks were ambiguous tweets and Instagram posts. Finally, on Christmas day, 2020, Carti delivered on his promise of a new album, and listeners could finally indulge in Whole Lotta Red without committing federal crimes of piracy. Originally, the album was received to mixed reviews. The production alone was somewhat different than that of his sophomore release, and some thought that Carti was losing his edge. It sounded dirty and unrefined to some, but harsh and punk-esque to others. Additionally, the aesthetic choices of Carti were off-putting to a lot of listeners, and the new, vampire-inspired clothing and makeup was something that a lot of people had conflicting opinions on. Vocally, the reliance on Carti's "baby voice" was polarizing, as well, as some loved it and others thought it sounded like nails on a chalkboard. These aesthetic differences set up a dialogue for people to either shout praises for the album or decry it as musical lunacy. Some thought it was terrible, especially coming off the critically acclaimed Die Lit, and others thought it was influential. Many were headed to social media comment sections with claims of "carti the goat", and so on and so forth. To this day, listeners are still clinging to the notion that the album was a disappointment, and still, some today are bringing reference to the album's potential influence. I have taken it upon myself to revisit the polarizing album to give light to either of the two sides. Is the release a potential classic? Or a critical failure?
The last time I had listened to the album in full was when it was released in 2020. At the time, I liked it, but not nearly as much as those singing its praises. I thought it was good, but not good enough for me to listen to it regularly, and I did not think it sounded like Carti, especially coming after Die Lit, which I love, to this day. Taking that into consideration, this album is flawed. As mentioned above, the production sounds much cheaper and unrefined. While Playboi Carti and producer Pi'erre Bourne were a musical dynamic duo in the past, Pi'erre's infectious producer tag rarely blesses the ears on this release. Regardless of whether or not Carti wanted it to sound this way, I think more effort could have been put into the mastering of the mix, especially coming from a label like Interscope Records. While it plays into the punk aesthetic that Carti was searching for in this release, the dirty, repetitive and outlandish trap production on this record is off putting after a while. If you wanted this album to be more vibe-worthy and ethereal, you would be disappointed. But if you were looking for more grimey, hard-hitting tracks, Whole Lotta Red is right up your alley. More tracks on the project are reminiscent of "R.I.P" from Die Lit than they are of "Location" from the self-titled project. Whole Lotta Red supplies bangers in abundance. For the more rhythmic and environmental tracks, like "Beno!" I find that Carti falls short. He employs the "baby voice" throughout the whole album, and while it works on the more aggressive songs, it sounds more choppy and squeaky on the softer ones. Additionally, the less-than-appealing production does not do any favors to songs like it. 
While many consider Carti to be an ignorant and untopical artist, Whole Lotta Red is full of funny, witty and memorable lyrics. Even the features, like Kanye West on "Go2DaMoon", have a few one-liners like "the case so brief, don't bring your briefcase". On "Punk Monk" Carti lists off several notable grievances with labels and other musicians, including, "they tried to turn me to a white boy, but I'm not Lil Dickie". Later, on the same track he says "I don't rap, I write poems". Almost all of the lyrics on "Sky" are memorable, like the incendiary bridge in which Carti shouts, "I got on Ed Hardy, she got on stilettos". Some others are "I take my shirt off and all the h***s stop breathing", as well as "Lamborghini parked outside, that's purple like lean". Carti's signature punk characteristics over autotune and fluttery instrumentals is present, still. However, this album has a lot of fluff in it. With 24 songs and a runtime of just over an hour, only about 60% of the songs are good, and only 30% are worth listening to more than three times. As mentioned, the melodic songs are boring, and some of the tracks that are supposed to be bangers just sound loud. The bell curve of quality songs on the album is pretty polarizing, with only a few great songs and several that are less than desirable. 
While Whole Lotta Red was much different than what everyone expected, it was by no means a completely unpredictable release when compared to what Carti had been doing prior to. No stranger to controversy or upsetting people, Carti originated in the Soundcloud Era of hip hop, where he and his contemporaries made names for themselves by doing things their own way, stylistically. Carti famously has said that he, in fact, "bought a crib for my mama off that mumblin'". As an artist, the creative liberties that Carti makes are what has made his work so exceptional and impactful in the field of contemporary music. Many, including music reviewer Anthony Fantano, have considered Carti's music to be quintessential trap music. Carti's newer music, specifically Whole Lotta Red, follows the same precedent. Expounding upon genre norms and other label authorities, Carti has been able to remain his own, and still make quality and influential music. To write it off as terrible just because it is quite different from his other projects would be disrespectful to him as an artist, and dismissive of his creative efforts. Just listening to newer trap music, Carti's influence is undeniable and clearly present, including similarities to Whole Lotta Red. Carti is already a generation-defining musician, and this most recent project is a clear indicator. Despite creating divides within his fanbase, Carti has been able to remain creative while still bringing great music to the table. Someday his aesthetic alterations could be as recognizable and historically respected as those of David Bowie. Carti has continued to disrupt rap music for the better, despite the flaws of this record. Just the presence of an album like Whole Lotta Red in the music industry makes Playboi Carti a force to be reckoned with, and shows that he has earned his success and acclaim.
Favorite Tracks:
"Sky"

"Slay3r"

"Vamp Anthem"

"New N3on"

"Punk Monk"

"King Vamp"

"Place"

"ILoveUIHateU"
Songs I didn't like:
"Beno!"

"Control"

"Not Playing"

"F33l Lik3 Dyin"
Credits:
Playboi Carti. Whole Lotta Red, 2020. AWGE/Interscope Records.
Playboi Carti. Die Lit, 2018. AWGE/Interscope Records.