OP-ED: Capital Campaign Cool Down by Connor Starowesky '20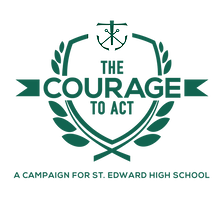 St. Edward High School will be seeing a huge add-on in June of 2017.  St. Edward has raised nearly $12 million in it's Courage to Act Campaign for the future Ken Layden '80 Center for Entrepreneurship & Innovation.  This expansion will add on to St. Ed's already massive Engineering Department, housed in the Lowe Center, which was built in 2008.  The $18 million Layden Center will add a massive rotunda as the school's new entrance, a 450 seat common area for students, and serve as an environment to foster students interest in entrepreneurship.  It will also add a third story on the Lowe Center, housing four state-of-the-art science labs.  $18 million is an enormous sum of money; it cannot be raised every five years.  The upcoming expansion would be the next upgrade for perhaps the next 10-15 years.  Is adding on to the nearly 70 year old, original, building a good idea?  What would the school gain from having a fancy welcome center and pricey classrooms?  It would sure make St. Edward High School look good.
The add on to St. Ed's in 1965-67 gave Ed's the west wing of the building, adding biology labs, english classrooms, and the library, and room 122.  Room 122 was the first room, and only,  in the school to have AC because of its lack of windows.  In 2000 St. Ed's entered the 21st century for $16 million, adding the two story weight room, synthetic grass football field, track and the SAC gym.  In 2004, the Kahl Center was built with air conditioning, in 2008 the Lowe Center was created, also with air conditioning.  At the beginning of the 2016-17 school year, the school had close to a month of dress down because of temperatures in the mid-90's.  The original building had no air conditioning and that's the way it is today.  
The United States Department of Labor's Occupational and Health Administration recommends a room temperature of 68-76° F and 20-60% humidity in a building where occupants are working.  The third week of school the temperature was 93° F, with 87% humidity.  20 schools in the Cleveland area were forced to close because of extreme temperatures and no  air conditioning, but St. Ed's plowed through, subjecting faculty and students to extreme working conditions that could have caused heat stroke.  Studies have also showed that higher  classroom temperatures have a direct connection to student test results.  
There have been four major add-ons, but the 70 year old building is untouched.  Yes, air conditioning would be costly, we would need to replace windows and vent work for the original building.  These cost would be under a million dollars, and raising millions of dollars doesn't seem like a problem for St. Ed's.
If we already have raised $12 million for the future Layden Center, how hard would it be to get school wide air conditioning? Is it better to look good in photos and recruiting pamphlets, or have a sustainable learning environment for the next generation of geniuses?