2016 Heisman Prediction by Max DiGiacomo '18
With the college football season soon coming to an end and bowl season nearing, the debate for 2016's Heisman Trophy winner is heating up. I'm going to take a look at the heavyweight candidates, and some that deserve to be in the talks, but really aren't.
Lamar Jackson (QB), Louisville– Jackson has been the favorite ever since the first few weeks of the season. Just by looking at his stats, anybody can understand why Jackson deserves to take home the Heisman. He has racked up 3,390 yards, 30 touchdowns, while throwing 9 interceptions heading into their bowl game. Stats alone will not be able to get Jackson the trophy, he would've needed to have played much better in the team's two previous games against Houston, in which they got blown out and against the lowly Kentucky Wildcats, who they lost to by 3. It also did not help that Jackson threw 3 interceptions against Kentucky, he had not thrown more than 1 in any other game. Jackson still holds 9 of the 10 first place votes in the ESPN Heisman watch.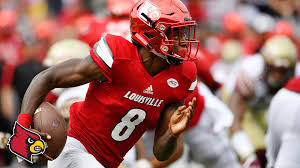 Deshaun Watson (QB), Clemson– Watson has once again put together another brilliant season, leading the Clemson Tigers to an 11-1 regular season record as they head into the ACC championship game against Virginia Tech. Watson threw for 3,626 yards, 34 touchdowns, and tossed 14 picks. Watson started off the season very slowly, while Jackson's Heisman stock was skyrocketing. Jackson also outplayed Watson in their head to head matchup, but Clemson got the victory. Watson's team will be college football playoff bound if they can secure a victory against Virginia Tech, unlike Jackson's squad.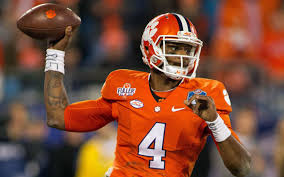 This is certainly one of the more interesting Heisman races in the last 5 years. The voters will have a tough time deciding between the two talented quarterbacks. I believe the committee will go with Lamar Jackson, because he still has to return to Louisville next year before heading to the NFL. It will be good for the NCAA if Jackson is chosen for publicity's sake. Watson should be the winner, because of not only his talent but also leadership ability, something Jackson lacks. I'm sure Watson will forget about not winning the Heisman if he can win a championship for Clemson.