With Teddy Bridgewater Injury at Hand, Adrian Peterson's Super Bowl Bid is Over by Jared Ashdown '18
August 30th, 2016 will be a miserable memory for years to come for Vikings fans. Franchise quarterback Teddy Bridgewater suffered a torn ACL and dislocated knee that will keep him sidelined for the entire 2016-17 NFL season. His injuries were so significant that had medical professionals and team doctors not responded as quickly, he could've lost his leg. While many NFL analysts conclude that this is a major blow to the Vikings, most of them will tell you that their season is far from over. I am here to tell you that it is over before their 4th preseason game. The Minnesota Vikings were last in the NFL last year in pass attempts and 1st in % amounts of called running plays, largely due to the greatness and impact of running back Adrian Peterson. While Teddy Bridgewater is a tier-3 NFL quarterback, we need to stop thinking that the NFL is anything like Madden. Teddy was in major control of the locker-room and despite his youth, is the leader of the franchise and one of the most respected players on the team. A "game-manager" second or third stringer will not lead the Vikings to the playoffs. While the defense ranked 5th in points per game allowed in the NFL last year, they still only ranked 13th against the pass and 17th against the run. Numbers can be confusing, don't confuse this formidable defense with greatness. In a division that includes the dynasty we know as the Green Bay Packers, this team with an above average defense, elite running game, no passing attack due to no quarterbacks of value and two receivers who have potential, can we really expect this team to have a good enough record for the wildcard? Teddy Bridgewater is not elite– he has not hit his peak yet– however, he is more important than you think, and you will see his value this upcoming season.
While Teddy's injury ruins the Vikings hopes at a playoff run this year, there's also another goal that it ruins as well: Adrian Peterson's run for a Lombardi trophy. The Minnesota Vikings relied on their running game more than any other NFL team last season en route to a playoff berth. Taking this into consideration, it was another year of major mileage to an Adrian Peterson who hasn't dipped yet, but isn't getting any younger. Adrian is 31 and at the end of the football season will turn 32, an age long past the average life of running backs. Don't believe me? Check these stats out. These numbers represent NEP per game by a running back with his age (NEP is a method of determining how valuable a running back is in terms of helping their team score and win). These numbers are concerning when thinking about Adrian Peterson, especially considering the major growth stoppage for Teddy with his injury. Because of these things and because father-time will soon catch up, Adrian Peterson will never win a title.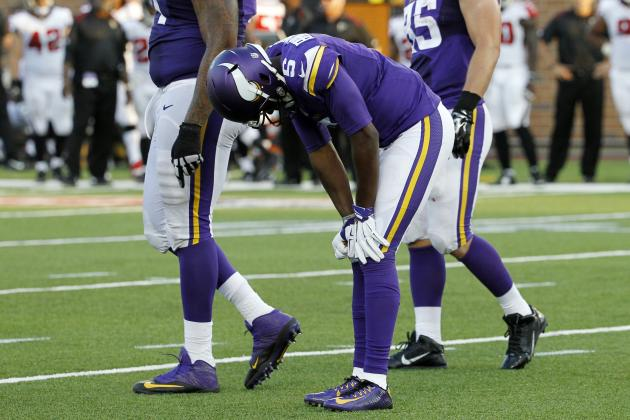 http://bleacherreport.com/articles/2217726-teddy-bridgewater-injury-latest-on-vikings-qbs-possible-concussion-and-return