Predictions for the Republican and Democratic Primaries: The Winners, Losers, and Wildcards Three Months Out by Dylan Zsigray '18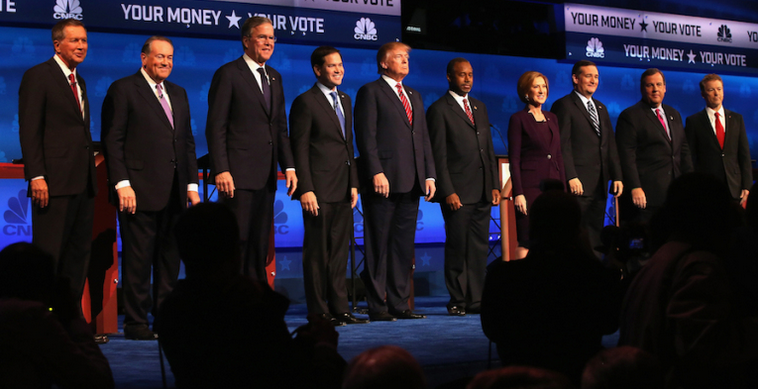 The top contenders for the party nominations
The first primary ahead of the 2016 Presidential Election will be held on February 1, 2016.  From there, the primaries will last until the end of July.  At that point, each political  party will nominate one individual to lead their party in the main presidential election.  Currently, the national polls show Donald Trump to have a substantial lead ahead of other contenders, such as Ted Cruz, Ben Carson, and Marco Rubio.  In the Democratic polls, Hillary Clinton is leading Bernie Sanders by more than 25%.  Despite this, the people's opinions of the candidates continue to shift, meaning that poll leaders will fall and underdogs may be able to rise by the time the primaries come around. Below are the predictions for the results.  Not all the candidates are included; just predicted winners, losers, and wildcards.
Republican Primary:
Winners:
Donald Trump: Although Trump has been infamous for his controversial comments, especially when it comes to immigration and the borders, his talking points have sat well with voters. Due to his popularity, he is currently leading the Republican playing field by over 15%.  Even though not everyone agrees with his statements, Trump is somehow finding a way to make it work and he will continue to do so.
Ted Cruz: Cruz has been flustered at times during early Republican debates. However, his plan to deal with both the economy and immigration sits well with voters.  Recent predictions show that he is most likely going to win Iowa next November, which will surge him ahead.  Based on polls from December 10th, he is currently in second place and is predicted to remain there.
Marco Rubio: Unlike Cruz, Rubio has been well-spoken and concise during his times addressing questions in debate.  Information from ontheissues.org shows that both Cruz and Rubio have similar plans surrounding immigration and economic reform.  Rubio will have to prove himself through his speaking to get votes.  It is predicted that he will be able to do so and stands a strong chance to win the primaries and score the nomination.
Losers:
Jeb Bush: Bush has fallen off the radar since the last debate and has already begun laying off campaign staff.  It is predicted that Bush will either drop his campaign before February, or drop to the bottom of the primary standings if he chooses to stay.
Rand Paul: Paul was originally favored by voters due to his goal to strictly follow the Constitution and the rights that it allows. However, recent issues with gun control have struck the nation, so more voters are going to less conservative choices, who will take into account both the Constitution and what is needed to reform society.
Wildcard:
John Kasich: John Kasich has been slowly moving up in the polls, moving up one power ranking this week. Although not as outspoken as other candidates, when he does speak, voters can relate to him and he seems to understand what America needs. There is a chance that Kasich could make a move up to the top as the primaries approach.
Democratic Primary:
Winners:
Hillary Clinton: Clinton is polling 25% higher than second place leader Bernie Sanders. Although she was the favorite to win the nomination in the beginning, allegations surrounding both the Benghazi Scandal and her email scandal will likely be addressed.  It is a toss-up as to whether or not the voters will care about these topics and if they will cause her to fall.
Bernie Sanders: Sanders has been moving up in the polls since May of this year. His campaign slogan "Feel the Bern," has been sitting well with voters.  Sanders is far behind Clinton, but it is possible that with his growing support, he will lessen the gap and stand a chance against the growing Clinton campaign.
Loser:
Mike O'Malley: O'Malley never really stood a chance against Clinton and that has become apparent how.  Polling at 2%, O'Malley has never really gotten the push to rise in the polls.  It is predicted that he will suspend his campaign before the primaries.
*Although this article concerns the opinion of the author, information was additionally taken from USA Today and Ontheissues.org
**Polling data accurate December 10, 2015