The Third Republican Presidential Debate Recap by Charlie Hoelscher '17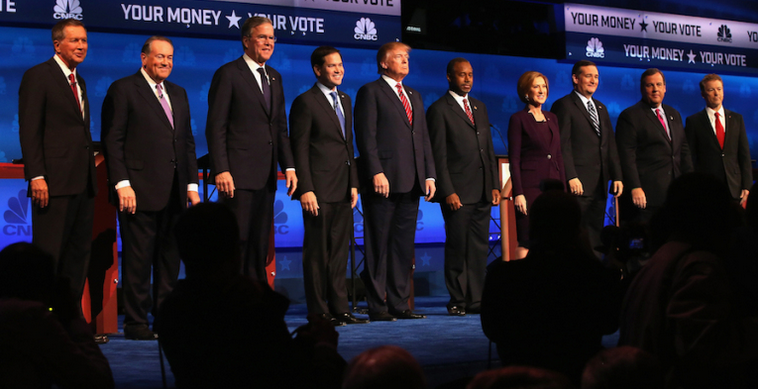 As America prepared for its third Republican Presidential Debate, on Wednesday the 28th,  so did the candidates. Donald Trump and Ben Carson seemed to be the only two major candidates but others like Marco Rubio and Ted Cruz trying to get back on the picture of the frontrunners. Current Ohio governor, John Kasich, and Rand Paul were trying to save their campaigns which were quickly falling down the drain. Jeb Bush and Chris Christie was just trying to stay relevant  as he headed into Wednesday's debate. Here were the night's winners and losers.
Winners
Marco Rubio — Made some strong leaps forward by criticizing the media. He claimed that they were all against the republican parties on account of the hard questions that they were being asked. This was responded to repeatedly by enormous applause. Rolled out his plan to lower the cost of raising a family and send people to work.
Ted Cruz — Made a great run , like Rubio, towards the media and its supposed bias against republicans. Also attacked the fed and said that its main purpose should be to regulate the money supply, not to pump up the economy.
Donald Trump — This was by far the least "Trump" like debate he has done so far. He steered clear of the conflict that he so seemingly enjoys so much and stuck to his points. The lone exception comes from when he schooled Kasich on his tax which he claims is endorsed by Larry Cudley, a famous conservative economist.
Losers
Chris Christie — had a nice debate, but at this point it's too little too late for him. He was simply playing neutral when he had to start making some noise on the debate floor if he wanted to turn his fortune around.
John Kasich — relied heavily on his background in Washington, when he balanced a budget under Ronald Reagan, to gain credibility. It was his main talking point and do much to gain any ground. He came out swinging taking shots at Trump and Carson but otherwise had a pretty quiet night when he needed to start to turn things around.
Jeb Bush — His only significant moments was when he got schooled by Rubio when he tried to bring up Rubio's poor Senate attendance and when he made a joke about his fantasy football team. Things were going bad before, but this made have put the nail in the coffin for Jeb Bush.
The other two debaters — Mike Huckabee and Carley Fiorina both were never in the big spotlight and neither really stood out. Huckabee talked briefly about curing diseases and Fiorina said that everything Obama does hurts women. Sadly these were the highlights for these two nominees
Neither Winners nor Losers
Ben Carson — Carson stuck to himself and failed to articulate many of his points. He didn't seemed as prepared as he did before but at the same time that didn't take away from anything. Carson by nature has been appealing because he is not a well rounded politician. This performance wasn't perfect but it didn't hurt him as much as one might think.