Caris Levert Trade: Aiden's Analysis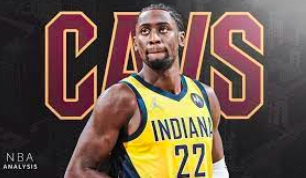 Ahead of the NBA Trade Deadline on February 10th, the Cleveland Cavaliers acquired Caris Levert on Sunday. The 6'6" guard is a Columbus, Ohio native and is averaging 18.7 points per game in 31.7 minutes per game. He reunited with his old Brooklyn Nets teammate Jarrett Allen. Most recently, he had a 42 point outburst against the Chicago Bulls on February 4th – a great example of his scoring capabilities for this Cavs team.                                          
Cleveland Receives: 
Caris Levert 

2022 second-round pick (via Miami)
Indiana Receives: 
Ricky Rubio

2022 first-round pick (lottery protected via Cleveland)

2022 second-round pick (via Houston)

2027 second-round pick (via Utah)
Cleveland Trade Grade: A
More offense is always helpful for the Cavs, especially for a potential playoff push this year. Prior to this trade, defenses almost certainly would have focused strictly on Darius Garland during a 7 game series. With Levert's scoring and playmaking capabilities, it will be much tougher for a team to strictly focus on one or two players on the Cavs. St. Edward Senior Abe Condrich thinks that "Caris Levert is a massive addition to the Cavs team and will be integral to their success going forward."
Losing Ricky Rubio, a fan-favorite and key piece to the Cavs' early success, is tough, but with his ACL injury, he would not have played this year and, with a playoff berth seeming more likely with every day, the swap for Levert just made sense. Furthermore, Rubio's contract is expiring and may have been a tough re-sign for the Cavs. 
As well, losing a likely late 1st round pick and Houston's second round pick (likely to be early 30s in the draft order) is not ideal, but how likely would it be for the Cavs to select a player better than Levert with these picks? It is always possible, but, even if, pushing for success right now seems like the better option. The Cavs have a bunch of young talent already. 
Indiana Trade Grade: B-
The Pacers are currently 19-36 and are clearly rebuilding their franchise. With Levert's injury concerns and his expiring contract, it made sense for them to trade Levert for draft capital. Ricky Rubio's contract is also expiring this off-season (and has even hinted at retirement in the somewhat near future), which will be helpful to the Pacers' cap flexibility heading into the offseason. Could they have got something better for Levert, especially in the draft pick aspect? It's impossible for us to know outside of the front office, but two 20-30 picks seems like a good enough return. As well, they could perhaps package these two picks together to move up to a higher draft selection, if they please.