Living, Loving, A$AP: LIVE.LOVE.A$AP, 10 Years Later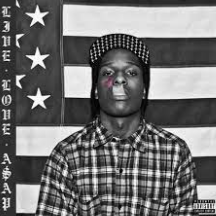 On October 29, 2021, A$AP Rocky's critically acclaimed mixtape, LIVE.LOVE.A$AP, was released onto streaming services ten years after its original release on October 31, 2011. A$AP Rocky and his collective, the A$AP Mob, broke the mould of New York hip-hop and style in the early 2010s, exhibited perhaps most notably in this release from Rocky in 2011. Contrasting the boom-bap and hardcore flows of his New York predecessors like the Diplomats and Jay-Z, Rocky and the Mob included influences from EDM, psychedelic music, and southern, chopped-and-screwed rap to "put Harlem on the map." Ten years later, Rocky's experimentation is still influencing many musicians to follow him, like Travis Scott, Playboi Carti, and Lil Uzi Vert. With his inebriated and fashion-influenced, decadent lyrics, Rocky and the A$AP Mob became one of the most prominent voices in hip-hop for the past decade. 
Even still today, the mixtape included beloved songs like "Peso" and "Purple Swag," which showed off Rocky's ability as a rapper, like in his iconic recital of the alphabet in "Peso," in which he included the lines, "popping E, I don't give a F, told you I'm a G". Featured artists on the project included members of the Mob, like A$AP Twelvy and A$AP Nast, and additionally other artists, not affiliated with A$AP, like SpaceGhostPurpp and ScHoolboy Q. 
LIVE.LOVE.A$AP was a groundbreaking project that has influenced the hip-hop game for the past ten years, and will continue to well into the future. And now that it is on streaming services, more and more people will grow to love the iconic mixtape. If you have not already, make sure you listen to this tape for an opportunity to musically hang out with Rocky and the Mob, chill, and experience the Purple Swag that makes Rocky such an iconic and innovative artist.
Tracks I enjoyed:
"Palace"

"Peso"

"Brand New Guy" (feat. ScHoolboy Q)

"Trilla" (A$AP Nast & A$AP Twelvyy)

Etc. and Etc.
Tracks I did not enjoy:
Sources:
https://genius.com/A-ap-rocky-peso-lyrics
https://open.spotify.com/album/4l6EPpP9hjQrLb8qNB9eC5
https://www.complex.com/music/asap-rocky-live-love-asap-mixtape-stream/
https://www.rap-up.com/2011/10/14/asap-rocky-signs-to-polo-grounds-musicrca-records/