Stock Market Simulation Competition Comes to St. Ed's!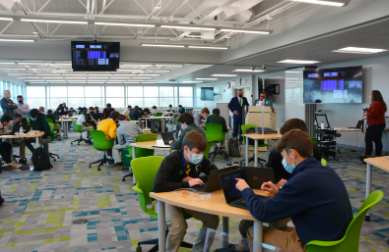 On Thursday, December 3rd Saint Ed's hosted the official Junior Achievement Stock Market Simulation Competition. 8 different high schools participated, each with numerous teams that qualified for the event. Essentially, the event was a simulation of two 30 day periods of the stock market, that was affected by both real life events, such as COVID-19, and synthesized catalysts, such as fake earnings reports or expansions. It also included fictitious stocks as well as real ones. Each team was given $1,000,000 of in-game cash, which could be used at the discretion of the competitors. The team that had the largest net account balance at the end was the winner, and won $1,000 in real money. 
On the day of the event, there was a very chaotic, yet exciting atmosphere on this simulated trading floor. The first hour consisted of all of the teams getting together, looking over the list of stocks and upcoming fictitious IPOs, and devising a game-plan. They had the help of "coaches," which included Mr. Schenosky, Mr. Corcoran, Mr. Levindofske, and various other teachers and instructors. Once the competition began, it was a pandemonium of numbers, news, instruction, and company names. All while the individual St. Edward Teams were competing and talking amongst each other, there was a Wall-Street style display on each of the TVs in the innovation center, which was conducive to a more realistic and holistic experience overall for the competitors. 
I asked 2 participants, Abedelrahman Hussein and Aiden Hayes, on their thoughts and experiences. Abedelrahman said, "I thought it was a great experience because it got me into stocks. It encouraged me to learn more about the stock market and how the stock market works." When asked if it was how he imagined a real trading floor to be, he said, "Yes it was how I imagined a real trading floor at a brokerage firm or a trading pit to be because it was loud, and there was shouting when people found hot stocks. It also lasted for hours which helps represent the business hours of the real stock market and how long (a broker) would stay at his firm."

Abedelrahman Hussein '22
Aiden had a similar experience, stating, "I thought the stock market challenge was a great experience. Although I do not think I would go into that career field, it was helpful to see the hectic nature of a trading floor and how traders make quick, yet informed decisions on the fly. It was great to see things from a new perspective and helped me understand holistic thinking for business, stocks, etc." The hectic nature Abedelrahman spoke to earlier was also reflected in Aiden's comparison of the challenge to a real trading floor. Aiden said that "it was exactly how I imagined a trading floor to be. It was hectic, with news constantly coming in that holistically affected every single company on the market. There was a ton of collaboration to make informed decisions, but there was still a bunch of pressure and stress that a real trading floor provides."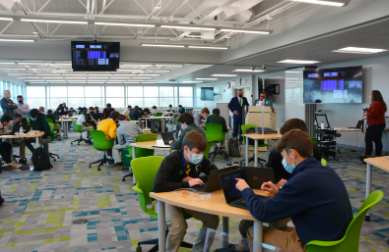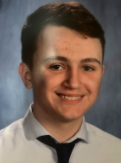 Aiden Hayes '22
Overall the Junior Achievement Stock Market Challenge was a huge success and provided a lot of experience for those who plan on following a business related career path, or even those who were just there for fun.