Why this is the year a Big Ten Team Wins the National Championship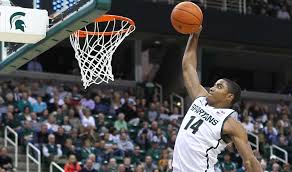 Sean Powers '15
It has been 14 years since a Big Ten team has won the national championship in men's college basketball, Michigan State in 2000, but what if I told you that the wait for another Big Ten team to win may be over. But first let's look at how the Big Ten has fared in tournament play since that national championship. In those 13 years since a Big Ten team has won it all a total of 72 Big Ten teams have made the actual tournament with Michigan State and Wisconsin tied for the most appearances in that span by making it all 13 years.  A total of 9 teams have made it to the final four and 5 of those teams went on to the championship game, but still zero championships in the last 13 years.
The ACC has had 5 national champions, the former Big East has 4, the SEC has 3, and the Big 12 has had 1 team win it all in the last 13 years. The Big Ten has always been considered one of the best college basketball conferences in the nation but they can never finish when it comes time in March. Well luckily Big Ten fans the tide is turning. The conference averages 5 teams a year in the tournament and only once has there been a Sweet16 with zero Big Ten teams. Even a more convincing stat is that if at least one Big Ten team reaches the Elite 8 there is a 92 percent chance that there will be a Big Ten team in the Final Four. Speaking of Final Fours, 9 out of the last 13 years there has been at least one Big Ten team. The Big Ten conference has had plenty of opportunities to have a team win it all and this year will be the year that it happens. Based on the past 13 years, statistics tell us that there will be at least one team that makes the Elite 8 this year and that one team has a 92 percent chance of making the Final Four (again based on these same statistics). At the Final Four a Big Ten team has a 56 percent chance of making it to the Championship game based off of how the previous 9 teams have fared in their respective Final Four games. As of today it is projected that 6 Big Ten teams will make the tournament according to Joe Lunardi's Bracketology so the chances of a Big Ten team winning it all are higher than ever, but hey if you think I'm making these stats up then please check for yourself. My prediction is that this is the year of the Big Ten.