#4 It's a Wonderful Life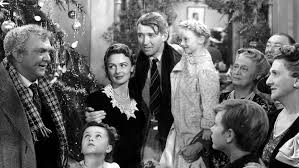 Michael Kay '15
It's A Wonderful Life, made in 1946, is one of the most traditional Christmas movies of all time. This movie brings together the struggles of peoples' lives, the triumphs of human spirit, and the miracles of the Christmas season. Starring James Stewart in the classic role George Bailey, this movie shows the need of everyone to have a love for their community, family, and self.
It's a Wonderful Life follows the story of the ever-generous George Bailey in his struggles and successes throughout life in his . It is narrated from heaven by the angels Joseph and Clarence as Clarence must learn about George to help him get his life back on track. George faces many hardships that he must endure from his childhood to his adult life. He faces each obstacle with determination and never gives up. He only gives more to others and helps others to the utmost extent without thinking of his own dream and aspirations of exploring the world. George also experiences happiness in his life through his direct family; his mother, brother Harry, and his father, and especially in his marriage to the love of his life, Mary Hatch. On Christmas Eve, George faces a challenge he cannot overcome and this leads him to a complete breakdown that culminates in suicidal thoughts. His life is only saved by his guardian angel, Clarence. Clarence tries to get through to him that his life is not worth throwing away. George wishes he was never born and Clarence grants this wish and proceeds to show him what the world is like without him. Clarence shows George his community that is completely different without him and much worse off because he was "not there" to help those in need, fight those in power, and love those who needed his love. He shows George that even though personally he might not see it as so, he truly has a wonderful life.
It's A Wonderful Life is one of the best and most true Christmas movies because it goes into the values a person has in life. George's values rest in giving to others and loving his family. He does everything for others all his life and gives all he has which is what the Christmas season is all about. When he can no longer do this he loses hope but a Christmas miracle comes in the form of Clarence. This helps him to see the light and the fact that all he had done for others did have meaning.  It's A Wonderful Life is #4 on the list because it shows triumph over those struggles and the triumph of the human spirit in general. It brings up many themes Christmas time embodies such as family, giving, miracles, and faith. With its culmination at Christmas, the movie shows that this season is a truly life changing and magical time. Its a time for family and community and giving and most of all being thankful for what you have and what you have done in life.
Whether you're by yourself or with your family, this movie is a must see Christmas classic for everyone to enjoy.