#17 The Nightmare Before Christmas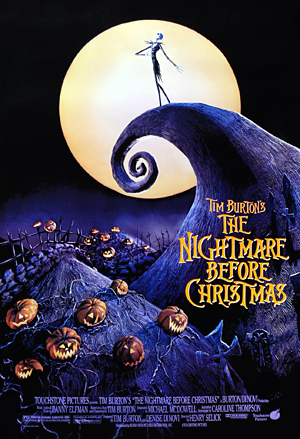 Bobby Kaleel '15
The weirdest of all Christmas movies is The Nightmare before Christmas, with its Halloween touch. This film gives a new outlook on the great holiday of Christmas. Tim Burton takes us to an alternate universe and like all other Christmas movies shows the audience what the true meaning of the holiday is.
Tim Burton wrote this story as a poem while working at Disney in 1982. Disney thought of making it a short film or a TV special, yet Burton was persistent with his idea and it ended up getting released in 1993 under a smaller Disney owned Production Company. The story follows Jack Skellington ("Pumpkin King") who lives in Halloween town and is in charge of running Halloween for the world. The town is inhabited by all kinds of monsters and creatures. He runs tired of the traditional Halloween and stumbles upon Christmas town run by Santa Claus. Jack becomes obsessed with the idea, and comes up with a master plan to kidnap Santa and run Christmas. Jack, with the help of others, succeeds with the kidnapping partially while gaining the love interest of Sally, a rag doll woman created by a mad scientist. The three mischievous children Jack assigns to kidnap Santa give Santa to Oogie Boogie, a boogyman who plans to hold Santa hostage.
Christmas Eve comes along and Jack goes out on a sleigh pulled by skeletal reindeer, led by his glowing dog. He delivers a sort of "anti-gift" for example Christmas tree eating animals. The world goes on high alert noticing that Jack is an imposter, and Jack is shot down by the military. Jack realizes he has messed up and heads back to Halloween town to free Santa. Sally has already attempted and was capture by Oogie, but Jack succeeds in saving Santa and Santa delivers the presents accordingly. The film ends with Jack and Sally showing their love for each other under a full moon.
This film is an absolute Christmas classic, with its dark and creepy feel it is a nice change of pace from normal Christmas films. This movie would be higher on the list if not for it being Halloween-Christmas movie hybrid. This is a great film and put Burton on the map but is not a true Christmas movie. It does, like all Christmas movies, teach the audience about the true meaning of Christmas, but due to its dark tone, it sits at 17 on the list.