#18 Scrooge (1970)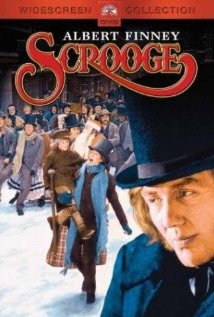 Joseph Unger '15
The first of several Christmas Carol movies on our list is Scrooge (1970); it is also one of the first musical renditions of Charles Dickens original tale featuring Albert Finney as the miserly old Ebenezer Scrooge.
Everyone knows the story of the miserly old man in Charles Dickens era England who is rich and indulges in stockpiling his money despite being surrounded by poverty.  On Christmas Eve he is visited by his former business assistant Jacob Marley and 3 subsequent spirits who warn him to change his ways or face a terrible fate after death.  Different in this version are his decent into hell after being shoved by the Ghost of Christmas Yet to Come and  the songs that accompany the movie, with some of my favorite being the catchy "I Like Life" and "Thank you very much."
If it weren't for other renditions of this classic tale and the lack of notoriety that this movie receives, this movie would be higher up the list.  What's not to like?  The tale is told as it always is, but with a strange scene before the ending with Scrooge in hell and with numerous catchy tunes and visually appealing dance numbers.  However, Albert Finney somewhat disturbed me as Scrooge with his excessively raspy voice and the revelation at the end that he experiences borderline insanity.  I guess we put this at number 18 mainly due to the fact that there are so many movies that in our opinion, due to their greater notoriety, popularity, personal appeal, deserve to be higher on the list.