#20 Unaccompanied Minors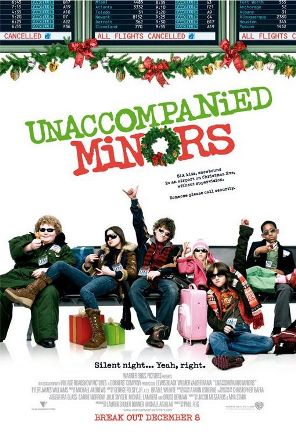 Collin Richards '15
Here's another feel-good holiday movie that I feel should be considered one of the Top 25 best Christmas movies to enjoy. Unaccompanied Minors, directed by Paul Feig, has an unusual twist on the classic Christmas story. Despite the large comedic focus and interesting inclusion of some prison-break elements, this movie is not overly popular. I hope this review will fix that.
The exposition begins with thirteen-year-old Spencer and his little sister, Katherine, getting dropped off at the airport by their mother. The plan is to fly to their dad's house and spend Christmas with him. However, poor weather forces the cancellation of their flight, and they are sent to the Unaccompanied Minor's room. Unable to tolerate his sister or that horrible place filled with snot-nosed brats and stuck up rich kids, Spencer leaves to find his own fun. Four other kids end up following his example. When each of these kids is rounded up for causing havoc in the airport, they are returned to the destroyed UM room to find that all the other children had been moved to a cozy lodge, including Spencer's little sister. The rest of the night is spent by the five dodging security guards, escaping each prison they are thrown into when caught, all while making the most of their Christmas Eve. Each kid displays growth of some kind and in the end they become their own little family.
I like this movie because although being trapped at an airport isn't an experience we have all had. Unaccompanied Minors reiterates the theme of Christmas being about spending time with those you love no matter what. The laughable bad guys and thrift shopping scene in the lost-and-found don't hurt either. However, the film claims number 20 on the list due to its one-dimensional plot and lack of star actors. This movie doesn't quite have the animated nostalgia that other movies higher up on the list never fail to stir up. Still, I encourage anyone who has not seen it to do so.