#25 Die Hard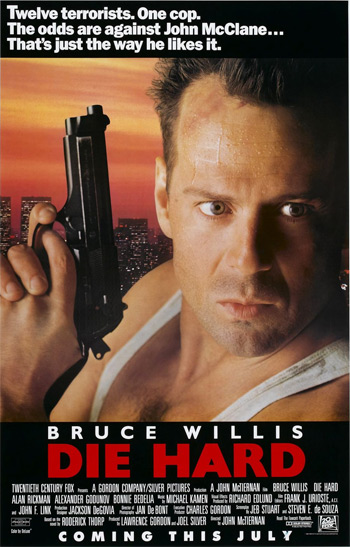 Anthony Raffin '17
Die Hard is one of my personal favorite movies. It combines the action, drama, and humor all into the character of John McClane (Bruce Willis). Less than half an hour into the film, the plot is established and the action begins.
The movie revolves around a New York cop, John McClane, visiting his estranged wife at her company's Christmas Eve party. During the party terrorists manage to slip inside taking all occupants hostage while McClane slips away armed with his service pistol. The leader of the terrorist Hans Gruber, uses the terrorist attack as a distraction to steal $640 million dollars in bearer bonds. The rest of the movie is a cat and mouse game between the seemingly underdog protagonist McClane and Gruber and his terrorists.
This movie ranks at #25 on our "Top 25 Christmas Movies" for several reasons. The film itself is a classic of epic proportions, yet when it comes to sitting down with the family and watching a Christmas movie, it doesn't fit the bill. Another reason would be that the events only occur on Christmas Eve and Day and moreover the director failed to emphasize the holiday itself (grant that it came out in July). "Die Hard" is a fast-paced action movie that's perfect for the movie-goer who wants Christmas and action all rolled up into a great movie.