Frank Geib '15
The battle of Lake Erie between the Browns and the Bills took place at Cleveland Browns Stadium on Thursday Night Football. Both teams stood at 2-2 and were looking to make a statement in primetime. In a game of runs, the Cleveland Browns prevailed for their third win straight by a score of 37-24.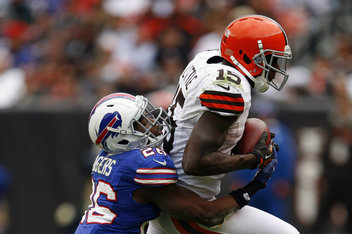 Brian Hoyer got the start for the Browns but exited the game on the teams second drive after an ugly knee injury while scrambling. An MRI awaits, but Brandon Weeden was ready to step in. The Browns went down 10-0 early but led by a surge of Travis Benjamin returning punts, they regained a 17-10 lead before half. Benjamin had 150 punt return yards in the half, including a 79 yard touchdown, compared to the 135 yards the offense had. Nevertheless, the Browns regained the lead at half. They have now led all games at halftime.
The second half began, and much like the beginning of the first, was all Bills. Rookie Quarterback E.J Manuel led a couple touchdown drives finished by rushing touchdowns by C.J Spiller and Fred Jackson. The Bills went up 24-17 but that would be it for their scoring for the rest of the evening. Weeden then tied the game up by finding Josh Gordon on a long ball in the back of the endzone. On the next Bills possession, Manuel went down with a knee injury and the Bills had to bring in rookie free agent Jeff Tuel. Tuel could do nothing and the Browns dominated field position for the rest of the half. The offense managed to recover the lead with two Billy Cundiff field goals and the defense sealed the deal as T.J Ward intercepted Tuel and returned it for a touchdown. The Browns won 37-24 and ended the game on 20-0 run.
What does this mean for the Browns? They now stand at 3-2 and until the results of this weekend, they hold the outright lead in the AFC North. Many still doubt that the Browns have a chance at the playoffs this season but with a very competitive division and games versus the Jaguars and Jets, they actually have a legitimate chance. Though too early to tell, looking at the numbers, teams who stand at 3-2 have over a 50% chance to make the playoffs since 1990. For next week, it is uncertain who will start at quarterback. So far, it is apparent to many the Brian Hoyer is the better choice as he has been very accurate and has made quick decisions. However, if Hoyer is hurt, Weeden will get the start and who knows what will happen. The following weeks will be difficult as the Browns will face the Lions, the Packers, and the 4-0 Chiefs. All we know is that at the present moment the Browns have won three in a row and are looking like a legitimate contender. Only time will tell if this team can stay in the playoff hunt…