Venue Review: Beachland Ballroom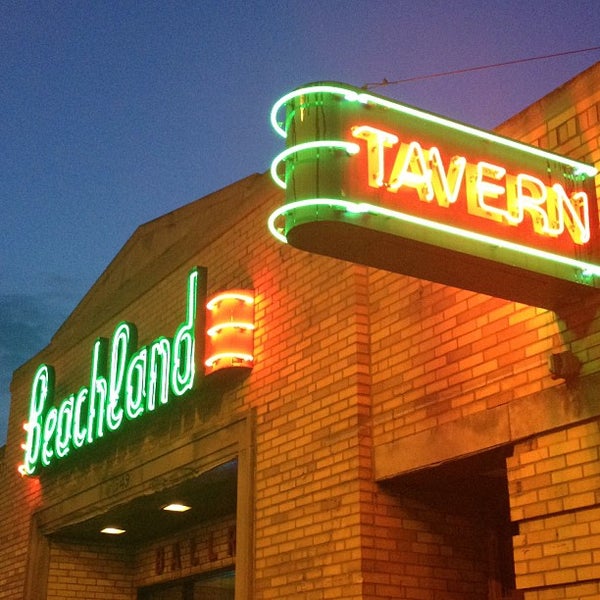 In this second edition of the local concert venue reviews, I will be looking at the Beachland Tavern on Waterloo Avenue in Cleveland, Ohio, near the Collinwood neighborhood. This venue is attached to the more well known Beachland Ballroom, but today I will be focusing on solely the Tavern. To start, it was very easy to navigate to, as it was right off of 2-90 a bit past downtown. Once you turn on to Waterloo it is hard to miss, with large neon signs sporting its name. Another plus is that there are a plethora of parking options. For one, there is parking at the actual venue itself, but if that is full, there is a separate parking lot to the west of the venue, which is a 30 second to 1 minute walk. The best part of all of these parking options is that they are all free! You can park close and not have to worry about paying an extra $10-20. It doesn't get much better than that. 
For the actual venue itself, there are some aspects good and some bad. Something that struck me as soon as I walked in was that the bar was on the right side which was a bit odd, most concert venues I've been to in the past have had the bar in the back. The actual stage was kind of tucked off to the left corner, which was also a bit odd. It just seemed like kind of an awkward setup to me. Also, there was no real traditional "backstage" so it seemed a bit cramped with all the equipment that the performers had to maneuver around. The guys working the sound were having a hard time with the mics, which pushed back the start of the show a bit, which was sort of an inconvenience but not a huge deal.
I went to see my friend play in his band Amphibian again, so the small aspect made it easy for us to talk with him in between shows, which was nice. The stage was not very tall at all so me and the guys I came with were able to get up pretty close when Amphibian played. It was a fun experience as a whole. I think as a whole, I'd be a bigger fan of the Ballroom, but that is not to say that the Tavern is not worth a visit. Overall, it ended up being a good show, it's just that the venue seemed more like a bar. I guess it is pretty aptly named as the "Tavern." Not the worst venue I've ever seen, but not a personal favorite. I hope to catch a show at the Ballroom in the near future so I can get the full Beachland Entertainment experience.