Play-in OR Playoff? Breaking Down the Cavs First Round Possibilities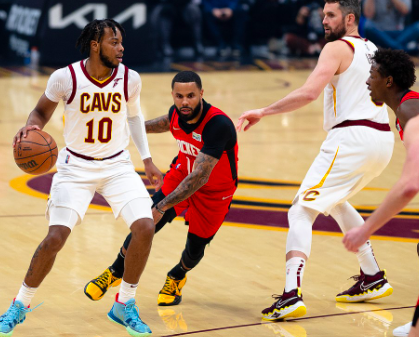 NBA Playoff week is finally here.
Tomorrow, the NBA playoffs will kick off. For the first time since LeBron James left the Cavs for the Lakers, the Cavs are back in the playoffs. The Cavs will play in the newly added play in tournament. The play in tournament started last year and, in simplest terms, the winner of the 9th and 10th seed plays the loser of the 7th and 8th seed and that decides the 8 seed for the playoffs. The Cavs truly have a very difficult road ahead of them. First, they play the Brooklyn Nets led by Kyrie Irving and Kevin Durant in the playoffs. The Cavs will still be playing without Jared Allen who fractured his finger. This is a significant injury for the Cavs because he is the primary rebounder for the team. If the Cavs beat the Nets, they will be the 7 seed for the playoffs. Even though a win would be good for the team, this scenario makes their playoff run even harder. If the Cavs lose to the Nets and beat the winner of the 9 and 10 seed, then they will play the Heat (1 seed). Even though the Heat are ranked higher than the Bucks, the Bucks are much better than the Heat. I could see the Cavs beating the Heat in a seven game series but they really have no chance if they play the Bucks. 
Last night's game proved to be extremely important for the Cavs. They beat the Bucks last night to lock in the 8 seed. The Bucks were playing none of their stars though. The Cavs were led by a monster game from Kevin Love. He had 32 points and 10 rebounds in just 15 minutes last night. He had 8 threes last night. Even though this game will force the Cavs to play the Nets, it was extremely important that the Cavs got a win before the playoffs. This heavily boosts the morale of the players and gives the team momentum before they play the Nets tomorrow.