Cleveland Has Entered the Kwan-tum Realm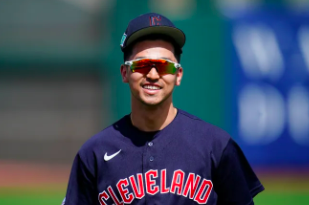 "Who is this lanky outfielder absolutely torching the Royals pitching staff?" may have been a common question coming from the mouths of many in Cleveland as they watched the Guardians go 1-2 in their opening series this weekend. "This lanky outfielder" is Steven Kwan, a man whose name was relatively unknown to casual fans before this weekend. A fifth-round pick in 2018 out of Oregon State's legendary 2018 championship team, which also included top catching prospect Adley Rustchmann, Cubs second baseman Nick Madrigal, and Twins outfielder Trevor Larnach, Kwan was never at the same hype level as his first-round teammates. 
But as he rose through the ranks of the minors, his prowess with the bat became more and more evident, despite not being a subject of much talk. Each year in the minors, his hitting numbers were well-above average. In his three years in the minors, his lowest wOBA was in 2019 at a still-respectable .344, and over the 2020 hiatus, he seemed to have gotten better. In 2021, he had wOBAs of .398 at Triple-A and .412 at Double-A. In other words, Kwan was an exceptionally good hitter in the upper minors, where the pitching is far more polished than it is at the lower levels. Over the course of 2021, Guardians fans, like myself and fellow Edsman baseball fan Billy Breninghouse, took notice of Kwan. Despite rising up the minors at a quick pace, he did not suffer the same dropoff that affects many top prospects, notably guys like Nolan Jones, who have not seemed to produce against Double-A and Triple-A talent. 
During the 2022 offseason, the thought of breakout seasons from prospects Steven Kwan, Gabriel Arias, and even Tyler Freeman filled my head. This was especially the case because of the depressing lack of effort demonstrated by Paul Dolan and the Guardians ownership group. It is hard to root for a team where the top brass does not seem to care, and having some fun young prospects like Kwan certainly can make the outlook slightly better. Over the course of spring training, I only became more excited about Kwan. 
What makes him so special is his hit tool, graded at a 70/80 by FanGraphs. Kwan just does not swing and miss. In fact, Kwan did not have a single strikeout over the course of 2022 Spring Training. He also had a 1.031 OPS, proving that he was not a Jose Iglesias or Hanser Alberto-type, sacrificing quality contact for sheer contact. Thus, it was no surprise that he made the Opening Day roster. For a team that has sorely lacked outfielders for years and who did painfully little over the course of the offseason, Kwan was a needed addition. If I had to suffer through a full season of Myles Straw (who is actually fun to watch), Bradley Zimmer, and Oscar Mercado, I would have found it quite difficult to be a fan of the franchise. But, as it has turned out, Kwan has added a breath of fresh air to the group. He also allowed us to trade Bradley Zimmer for Anthony Castro, another potentially strong bullpen piece for a team whose pitching will be the key to a potential run at the White Sox for AL Central supremacy. 
Now, what exactly has Kwan done at the Major League level? He has done nothing but get hits (.800 batting average), get on base (.857 on-base percentage), and break records. Namely, his eight hits in his first three MLB games are a franchise record, and his six times on base in one of his first three games is a modern MLB (post-1901) record. His hit tool has been on full display, and the pure hitting ability he has shown at the MLB level is akin to players like Wander Franco and peak DJ Lemahieu. In 2022, Kwan has not struck out, and he has not even swung and missed. In a game where pitchers are throwing harder and with more movement than ever before, his ability to put bat on ball is astonishing.
Although the sample size is very small, Kwan can definitely continue to be a valuable outfielder for the Guardians organization, where he will, without a doubt, continue to receive a significant amount of playing time. Now, if the ownership could grow to match the machine that is the Guardians' player development, Cleveland baseball could become a powerhouse for years to come. For now, though, I will continue to be happy with Jose Ramirez and Steven Kwan, who are both signed for at least six more years.