St. Andre's Scholars Get St. Edward Community in the Christmas Spirit!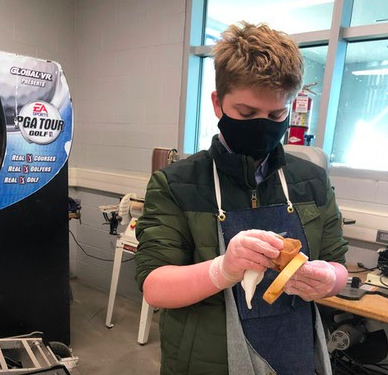 Each December the Saint Andre's Scholars of St. Edward come out with an annual rendition of a Christmas product. The gift is a symbol of their hard work and dedication throughout the year and the final product is the culmination of a process of hard work on many fronts. 
The Saint Andre's Scholars program at St. Edward is a special education learning experience that seeks to offer a quality Catholic education to those students with learning differences or moderate cognitive disabilities with a need for extensive academic support. The program offers students with alternative learning needs to be able to receive help they need in school while still having the experience of a normal high school student and being a part of the school community. In addition some of the classes that St. Andre Scholars take alongside all of their St. Edward classmates, they are also enrolled in a number courses of a modified curriculum and focus on career preparedness as well as life skills. The program has grown in past years and has offered an amazing opportunity for many students with learning needs and accommodations to be a thriving part of the St. Edward community both in and out of the classroom. Many of the St. Andre's Scholars have found passions within extracurricular activities with their classmates including sports management, participation, as well as various other clubs and activities. It is very possible that none of this would have been possible without the St. Andre's Scholars program. 
Beginning in 2019, the Saint Andre's Scholars, in accordance with volunteers from the student body as well as IB Business teacher, Mr. Schenosky, began crafting Christmas gifts. These gifts are created in order to be sold in hopes to raise funds for the Scholars program and their future endeavors. They aim to make quality products that remain durable and in good condition while having a strong practical use for the recipient. The production includes a number of steps in which the St. Andre's Scholars are heavily involved. They are able to help in the design process, the marketing campaign, the production, the selling and distribution of the products. The project is almost a perfect reflection of the program itself, the Scholars get to work alongside their other classmates and contribute greatly to the end product while learning lots of skills along the way.
Jonathan Halko, a member of the St. Edward senior class, has been involved with the project since its inception. When asked about the significance of the project he stated, "It's such a great opportunity for the St. Andre's Scholars to learn life skills like craftsmanship and construction but also literacy in areas like business and finance. These skills are going to be really important for anyone as they move forward in life and this is such a great opportunity for all involved to learn and grow in these areas." 
The production of their gifts is something that all involved are very proud of and it includes the use of a number of different resources to reach the end goal. For example the production has included wood and a programmed laser cutter. Another senior class member who is involved in the program, Pearse Bialowis commented, "We are so lucky to have the kind of resources that we do at St. Edward and it has really helped our production process. The kind of tools we have access to here help us to make a gift that is really quality and that people will be able to use forever." The previous year's gift was a set of cup holders that depicted the signatures of the St. Andre's Scholars as well as badges representing a number of the clubs and activities available at St. Edward (production depicted left). I bought a set and I can confirm that I use them daily and they remain in excellent condition, they are a great reminder of the hard work and dedication exhibited by the St. Andre's Scholars. 
The final product this year is a bamboo cutting board. This product comes with much more options than last year. There are multiple preset designs available (below) as well as the option for a custom inscription or design of the buyer's choosing! The progress has not gone unnoticed by the St. Edward community and sales have been great so far. "It's really exciting to see our progress year after year and if we continue to keep improving the program the way we have it's amazing to think about how much of an impact we can make on the future of the St. Andre's program. Who knows how big of an event this production could be for the community in the future." said Jonathan Halko about the program's improvement over the past years.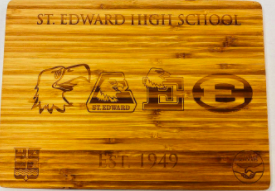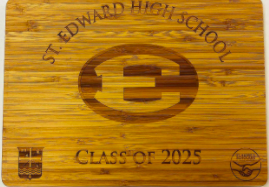 It's not too late to order your very own St. Andre's Scholars cutting board if you have not already! https://www.sehs.net/scholarsshop visit the link to purchase one before they sell out!