The Melodic Blue Blues: A Baby Keem Album Review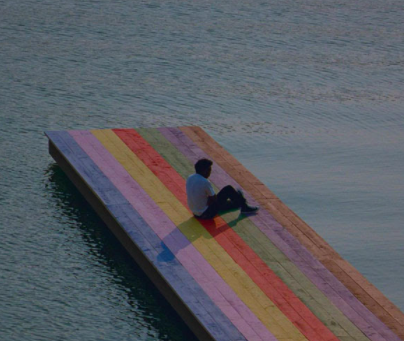 In Baby Keem's most recent project, The Melodic Blue, Keem reflects on past relationships, betrayals, trauma, and criticisms, but most notably, his success as a musician. His third record includes features from Houston native Travis Scott, his affiliate Don Toliver, and Keem's own cousin, hip-hop icon Kendrick Lamar. 
Baby Keem rose to prominence in late 2018 with his first studio album, The Sound of a Bad Habit, but caught my own attention the next year, with notable releases made popular from TikTok. "ORANGE SODA," and "STATS," off of his second album, "DIE FOR MY B****" instantly caught my ear, with their exhilarating production and electric vocal performance. These tracks helped separate Baby Keem from the crowd of standard trap music, and his popularity grew immensely, especially among younger people, as result from his lyrics about his numerous romantic affairs and dangerous lifestyle, all while keeping an exciting and carefree nature. Songs like these made Keem seem like he was both a funny, eccentric character and a hardened criminal at the same time. Unfortunately, The Melodic Blue fails to add new developments to his image as an artist, and falls back on generic trap archetypes to produce a full-length LP. 
Though this new release does include some bubbly trap bangers that put Keem on the map, a majority of the tracks featured do not contribute anything to the rest of the project. With boring, repetitive hooks, uninteresting production, and underwhelming writing, songs like "pink panties," "south africa," and "lost souls,",Keem detrimentally discredits any experimental, or at least satisfying cuts that stood out on the album. Baby Keem also maintains a monotone, and invariable delivery throughout most of the album, and uses his features as a crutch to include variety in the album. The Kendrick feature on "family ties" relieves Keem from his rambling for the first three quarters of the song, and Don Toliver's hook greatly breaks up the generic verses Keem recites on "Cocoa." The features on the record help make it a bit more enjoyable, but Keem cannot always seem to keep up with his guests musically. Additionally, this project includes some choice repetitions, that I still cannot understand if they benefit or harm the record, including "rover gang, rover gang, rover gang," "range brothers," "and did it again, and did it again, and did it again," and "family ties." The majority of the album's risks either fail to make the record exciting, or reduce its overall enjoyability. 
The Melodic Blue, despite having some fun moments, is not Baby Keem's best work, and still leaves much to be desired from what he is best known for, that being experimental and fun trap. By falling back on the well-established traits of trap music and notable featured artists, Keem's newest release is not the project that he will be remembered for. Unless you are a die-hard Baby Keem fan, you are not missing much if you have not already listened to the album. 
Some tracks I enjoyed:
trademark usa

range brothers (with Kendrick Lamar)

scars 
Some tracks I did not enjoy:
pink panties

lost souls

first order of business