Black + Denim = Domination: A Recap of SEHS Football v. Mentor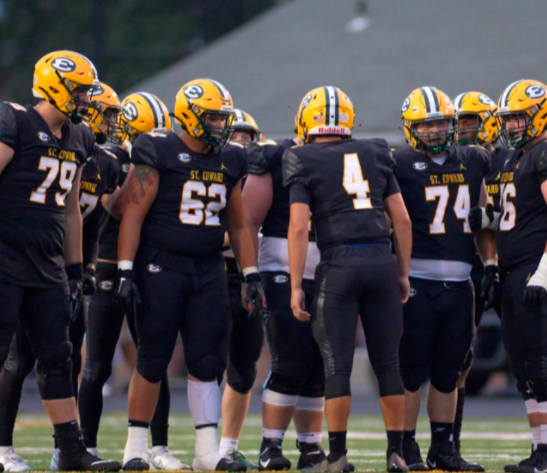 Everybody already knows about the blowout win Saturday night that came when St. Eds defeated Mentor 47-7.
Aside from the stat lines from the game, St. Eds debuted their black Jordan brand uniforms. These uniforms were awesome in every way. The black looked great with the green and gold and the snakeskin on the shoulders and legs was epic. The only way these uniforms could have looked better is if they had black helmets but that would violate high school football rules. The reason that these uniforms looked so good was because of how different they are from the normal white, green, or gold uniforms.
Nobody expects a school like St. Eds to come out in all black uniforms for a game.
Another highlight of the game was the student section. The student section was packed for the whole game. The loudness of the student section certainly had an effect on the game and the morale of Mentor because they literally had nobody cheering for them. The game was close during the first half with the score being 14-7 at one point but with about three minutes left to go in the half, Eds broke the game wide open scoring two touchdowns in the final three minutes. The second half was nowhere even close to competitive with Mentor struggling for even a first down.
The top play from this game was Christian Ramos's bomb to Connor Goodall for a touchdown that was also pass interference. This play was the beginning of the end. During the game, St. Eds had an impressive 6 rushing touchdowns which just shows that they are lethal both passing and running the ball.
St. Ed's next game is against Cincinnati Elder at Elder. A win here would be huge for Eds and would push them to be even closer to that number one spot in the state and an easier path to playoff competition.