Ohio State Beats Gophers; Prepare to Host #11 Oregon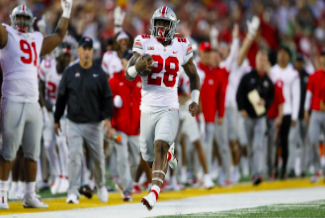 The Ohio State Buckeyes were victorious in their season opener vs the University of Minnesota 45-31. Much of the discussion coming into the game was centered around if 19 year old redshirt freshman quarterback C.J. Stroud could fill the shoes of now Chicago Bears quarterback Justin Fields. Stroud struggled in the first half, going 8/14 for 58 yards with 0TDs, 1INT and some key overthrows, but picked it up in the second half. Stroud finished the game with only 5 more completions, but with a total of 294 yards, 4TDs and 1INT, fueled by 3TDs over 50 yards. 
Miyan Williams started the game off for the Buckeyes with a 71 yard rushing TD to put the Buckeyes up 7-0, but the first-half offense would not have much success after that. A costly holding penalty from Jeremy Ruckert and an interception from CJ Stroud halted drives and gave Minnesota the momentum needed to go up 14-10 at the half. The Buckeyes defense was "poor" according to Brendan Waters '22, an avid Ohio State fan. 
However, the Buckeyes made some half-time adjustments and came out strong, with Stroud connecting with Chris Olave for a 38 yard TD to start the half. Stroud "really turned it around in the 2nd half" according to Josh Cochran '22. From there, the momentum kept rolling, with Stroud connecting with Garrett WIlson for a 56 yard TD and then Haskell Garrett returning a fumble for a TD to give the Buckeyes a 31-21 lead with 2 minutes left in the 3rd quarter. Minnesota mounted some resistance in the form of a FG and a TD in the 4th, but Ohio State was able to hold on with a 70 yard TD by freshman Treveyon Henderson and a 61 yard TD by Chris Olave to finish the game 45-31 in their favor 
After Stroud's first half performance, some on social media were calling for Quinn Ewers, a 5 star QB recruit from Texas that recently reclassified to join the Ohio State team this year, to take his place. This was a complete overreaction. Playing for a highly rated team like #4 ranked Ohio State in one's first ever college game as a starting QB is bound to come with some jitters and nervousness, which Stroud undoubtedly showed in the first half. However, Stroud just needed some time to settle into the game and to calm himself down, which he demonstrated in his second half performance. He should be the starter going forward. 
The #4 Buckeyes take on #11 Oregon of the PAC-12 conference next Saturday, September 11th, 2021.