"Be the Fight": The Cavs Future is Bright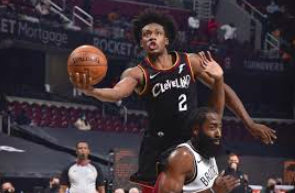 Though they had a rough night in Boston last night, the Cleveland Cavaliers have surely made some ripples in the NBA this year. They are currently 8-8 and sitting in third place in their division. Some major publicity has come to the Cavs over the past week when they beat the Brooklyn Nets twice. This has been a surprise because the Nets have potentially the best trio of players in the NBA. Leading the charge for the Cavs was Collin Sexton. In the first double OT win against Brooklyn, Sexton had a career high of 42 points. Notably, he scored 20 in a row for the Cavs going into overtime.
Even though the Cavs still are not necessarily a potential playoff team, the future definitely looks bright. Isaac Okoro is looking to be a very promising player especially on the defensive side. The Cavs roster is stacked with young guards and forwards. After a good year of drafting and free agency, the Cavs should be able to bring in a couple of veterans that will be able to better lead the team. One thing that the Cavs need is a superstar player that fits with their offensive scheme. Bradley Beal or CJ McCollum would be great for this.
This year's Cavs team is somewhat comparable to the Tampa Bay Buccaneers. They are loaded with weapons and are good on the defensive side but they just need a superstar to make their team "click." Tom Brady clearly did this for the Bucs and a superstar would achieve this for the Cavs. All in all, the future is bright for Cavs fans and I expect them to be major playoff contenders in the upcoming years.