Champions League Predictions: Round of 16
The Champions League Round of 16 is nearing and there are some very good looking ties. Barcelona Vs. PSG, Leipzig Vs. Liverpool, and Atletico Madrid Vs. Chelsea. There are going to be some big teams dumped out of the Champions League in the Round of 16. Edsman members Brendan Waters and Ahmed Elsharkawy are getting together and are presenting their predictions for these ties. Here is the Edsman's 2021 Champions League Round of 16 predictions. Part 1 of 2. 
RB Leipzig Vs. Liverpool
Elsharkawy Prediction: Leipzig 3-1 Liverpool Agg.
At the moment Liverpool, who won the 2018-2019 Champions League are 4 points off first place and they topped their group in this past group stage, however, their recent performances have been awful considering the high standards they are held at. They have been having a very hard time scoring in the Premier League and without Van Dijk, their defense is shaky at best. Their squad has been dismantled by injuries most of whom won't be healthy by the time the Champions League returns. 
RB Leipzig on the other hand are tied for second in the Bundesliga, behind only Bayern, and have been relatively consistent, compared to Liverpool. They are injury-free and coach Julian Naglesman knows exactly how to take full advantage of his players. Although they could lose their top defender, Dayot Upamecano, in the January transfer window, they have other options who are still very capable. 
I believe that RB Leipzig will be able to upset Liverpool and advance to the quarter-finals. This weakened Liverpool defense will find it very hard to deal with Leipzig's outside backs, and that the Leipzig midfield will end up running circles around a static, slow Liverpool midfield. I think that in the first leg at home Leipzig will win 2-0 and the away leg will end 1-1. 
Waters Prediction: Liverpool 6-2 Leipzig Agg.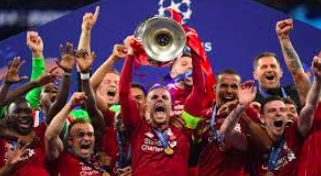 Although the Champions League has constantly demonstrated that underdogs can never be counted. Just two years ago in the 2019 knockout stage, the Dutch side Ajax advanced to the semi finals with many young players who, coming into the tournament, were essentially nameless on the global scale. This side shocked the world and knocked out two heavy favorites to win it all, perennial world powers Real Madrid and Juventus. And they very nearly made the final if it weren't for a miraculous second half hat trick by Tottenham forward Lucas Moura. In addition to the history of underdogs winning in Champions League draws, there is no denying the class of this Leipzig side. They advanced from a very tough group and sent Manchester United packing much earlier than they would have hoped. Not to mention they are holding a firm grip in the top four of their domestic league, the German Bundesliga behind only the reigning Champions League winners Bayern Munich. Despite all of this I believe that the class of Liverpool is undeniable and even though their recent form has dropped from what fans are used to seeing out of them, they are still a world class side and I don't think that Leipzig will be able to handle them. I particularly predict that the Leipzig defense will be overwhelmed by the likes of Sadio Mane and Mohamed Salah, the chemistry and experience of the two African attackers should make the difference in this match. Even if Leipzig can come out to a hot start which I can certainly see happening they won't be able to contain the Liverpool attack through two aggregate matches.
FC Barcelona Vs. Paris Saint Germain
Elsharkawy Prediction: Barcelona 4-3 Agg.
FC Barcelona. Formerly the greatest club in the world has slipped far down from its throne. With the loss of Neymar and more recently Luis Suarez all that remains of their feared attacking trio is a tired and uninterested Lionel Messi(Right, Image courtesy of Marca). They have spent over 500 million dollars since Neymar's departure, trying to find the heir to Lionel Messi, all the while ignoring their academy and cycling through coach after coach. However, this Barcelona side has a lot to look forward to. With the emergence of Pedri and star signings Ousmane Dembele and Frenkie De Jong finally finding their form they will have a chance against PSG. It is impossible to dismiss what happened the last time these two clubs met in the Champions League. FC Barcelona pulled off a historic 6-1 comeback in the 2nd leg. It looked impossible for Barcelona to pull off the win in 2017 and they did it. They should see senior defender Gerard Pique return from injury in time for the tie which will definitely help their odds.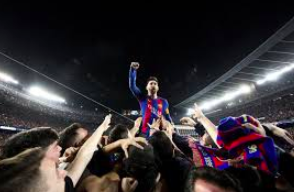 PSG have been one of the most feared sides in Europe ever since acquiring Neymar in a 250 million dollar move. They managed to reach the Champions League final last year where they fell short to Bayern Munich. However, their team last was much different to what they have today. They lost their best defender in Thiago Silva after he moved the Premier League side Chelsea in the summer. They have fired their manager Thomas Tuchel after some less than satisfactory results in Ligue 1. Their defense has shown inconsistencies and there are definitely weaknesses to be exploited. Their attack has also been on and off with star player Kylian Mbappe going through a goal drought. 
I think this tie will come down to the managerial decisions. If FC Barcelona coach Ronald Koeman can be the better tactician, I believe FC Barcelona could defeat PSG. I have Barcelona winning the first leg at home 2-1, and the second leg will be a 2-2 tie in Paris.
Waters: PSG 5-3 Barcelona Agg. 
Here we have an interesting draw and what would once be considered a marquee matchup between two world class sides with very global fan bases. However, Paris Saint Germain have been trending up lately and becoming more and more respected while Barcelona is in the middle of a downward spiral that started with the loss of star attackers Neymar and Suarez who were unhappy with the situation at the club and expressed concerns about the environment and the management after their departures. The face of the club and for many people of all of professional soccer, Lionel Messi is one of the last remaining players from Barcelona's golden age and even he has openly expressed his frustration with the management and with the team's goals. These off the field problems have leaked into their performance and particularly Messi who is visibly unhappy and recently received his first red card with the club following an outburst in which he threw down an opposing player, this type of emotion from Messi is formerly unseen and it is testament to the struggle of himself and Barcelona. In addition to Barcelona's falling off, I have a lot of optimism about the PSG side in the tournament. Neymar has expressed his frustration about not being able to win in Europe and he has stated that he came to PSG to win a Champions League. His play so far has shown that he is taking this mission on very seriously and he led the team to some crucial group stage victories, if the young Frenchman Kylian Mbappe is alongside him and healthy for the match I predict that they will have no trouble netting goals against the Barcelona side.
Sevilla Vs. Dortmund
Elsharkawy Prediction: Dortmund 4 -2 Sevilla Agg.
Sevilla Vs. Dortmund is a very interesting tie. Both teams have been weak defensively with 1.3 goals conceded per game in their respective leagues. However Dortmund, unlike Sevilla, possesses the offensive firepower to overcome their defensive issues. With Erling Haaland(Left, Image courtesy of Bundesliga.com) scoring in bunches as normal, and Jadon Sancho, as well as Marco Reus's form looking up, it would be very difficult for Sevilla to win this tie. However, Moroccan striker En-Nesyri has been playing very well lately, and defenders Diego Carlos and Jules Kounde have looked more solid as of late for Sevilla. Dortmund's defense has been shaky, with veteran Mats Hummels and Manuel Akanji being very inconsistent. I think that if Sevilla can contain Dortmund's attackers, and emphasize a strong coverage of Erling Haaland for 180 minutes, the Dortmund defense will eventually break down and Sevilla could find a way in. However, considering that Dortmund's offense has been firing on all cylinders for months breaking down defenses much stronger than Sevilla's it would be highly unlikely that the Spanish club would be able to pull this off. 
Waters Prediction: Dortmund 3 – 1 Sevilla Agg.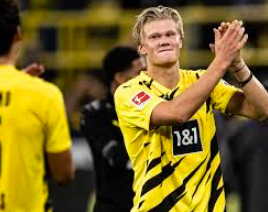 Simply put, I can't see Sevilla lasting more than one round at the most in the knockout stage, they just lack the class of the other sides that have advanced. Sevilla moved on from quite arguably the weakest group in the group stage and not even topping their group in points. The high powered attack of Dortmund and their established reputation as a sound defensive team with veteran defender Mats Hummels heading the defense. This in unison with some of the best and most loyal fans in the world should be plenty to top Sevilla in this one. Dortmund is actually a favorite of mine to win the entire tournament, their goal scoring power with their young attacking duo of the Norwegian Erling Haaland and the 17 year old American Gio Reyna makes them a threat to net several goals in any given game. Look for the creativity of Reyna to shine through and for their offense to flow through him as they cruise through a first win and likely even further. 
Juventus Vs. FC Porto
Elsharkawy Prediction: Juventus 5 – Porto 1 Agg.
The most dominant team in Italy against the most dominant team in Portugal. Both teams had relatively simple group stages with FC Porto securing second place by 10 points and Juventus securing first place by 11 points compared to third. They are both regular fixtures in the Champions League although they have very different success rates. The last time Juventus failed to advance to at least the Quarter finals was 2014, while FC Porto have only advanced to the same stage twice in the past ten years. Although FC Porto breezed through the group stages both times they faced Manchester City, the best club in their group they lost once, and the second game ended in 0-0 tie. This deadlock only happened because Manchester City played a very young side after rotating their senior players. These games should serve as a litmus test for their games against Juventus. FC Porto are a good team however Juventus should take care of them without problem. Cristiano Ronaldo(Right, Image courtesy of Marca)  and Alvaro Morata have been scoring goals for fun and the Italian clubs defense has looked as solid as ever. If Dutch defender Matthjis De Ligt recovers from Covid-19 in time for this tie, I can definitely see Juventus keeping a clean sheet for both matches, especially if FC Porto lose star attacker Otavio in the January transfer window, which has been a popular rumor. I have Juventus winning 2-1 away at Porto and cleaning up with a 3-0 at home in Turin.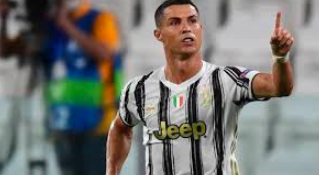 Waters Prediction: FC Porto 3 – 2 Juventus Agg.
Although they aren't necessarily accustomed to the high level of opponents that the Champions League and even more so the knockout stage has, I can see Porto as a team that can go much further than anyone expects. As I said before small and underestimated teams have often made miraculous runs in the Champions League and I think that a Portuguese team is long overdue to find success in the tournament. I think that Porto has a really good chance to shock Juventus simply because of their underdog status. They also have a very competent attack that has propelled them to second in their domestic league and I believe they have a window of opportunity and they will need to take the first stage of the two match draw and then hold Juventus off in order to win but it will be interesting to see how it plays out. I predict that whichever team scores first in the two match draw will eventually win on aggregate.