Champions League Group Stage Analysis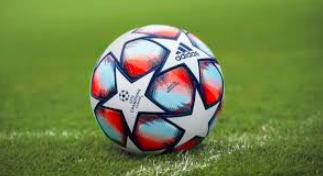 The Champions group stage has come to an end, with all the clubs' destinies confirmed for either the Champions League knockout stage, relegation to the Europa League, or elimination from European Soccer. There was excitement, disappointment, joy, and heartbreak for all teams alike. This is The Edsman's review of the two most exciting groups in the 2020/21 Champions League Group.
Group B:
Teams (Points and Placement): Real Madrid (10 pts, 1st) Borrussia Monchengladbach (8 pts, 2nd) Shakhtar Donetsk (8 pts, 3rd), Inter Milan (6 pts, 4th)
Perhaps the most interesting group, most people thought that Real Madrid and Inter Milan would easily top the group, with Gladbach coming in 3rd. But this was far from what actually happened. From Shaktar beating Real Madrid home and away, to Gladbach beating Shakhtar 10-0 on aggregate, this group was full of surprises. Up until the final matchday any of the 4 teams still could have qualified for the knockout stages. 
Real Madrid may have topped the group but it was a far from dominant six games. They had to leave it to the final matchday to qualify, where there was a very real possibility that they would be knocked out of the Champions League group stage for the first time in their history. Without their captain Sergio Ramos, the defense looked miserable, as they lost two out of the three games he did not play in. If not for the shortcomings of other clubs in the group, Real Madrid would not have qualified.    

Matt Skladany '22
Junior Matthew Skladany has this to say about Real Madrid's Group B performance: "Real Madrid were on the brink of elimination but they performed well when it mattered. The trio of Kroos, Modric, and Casemiro that seemed to be past their primes has shown out once again to help us advance to the Round of 16."
Gladbach, who most had written off as Europa League-bound, has shocked everyone by qualifying for the Round of 16. Led by marksman Alessandra Plea (pictured) and playmaker Lars Stindl, they squeezed into the knockout stages by head-to-head advantage over Shakhtar. Although the German club was not able to defeat Real Madrid or Inter Milan once,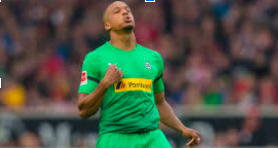 (Image Courtesy of Transfrmarkt) 
their two wins over Shakhtar and two draws were enough for qualification. 
Shakhtar Donetsk will be proud of their performances against Real Madrid, as they managed to defeat the Spanish Giants home and away. However, their losses to Gladbach proved to be detrimental to their qualifying chances and they will be rebirthed in the Europa League.
Finally, for the third year in a row, Inter Milan fail to qualify for the knockout stages on the final matchday, this time not even making the Europa League. There is not much to be said other than that there are major changes needed this summer in order to bring the historic club back to its former glory. 
Group H:
Teams (Points and Placement): Paris Saint-Germain (12 pts, 1st), RB Leipzig (12 pts 2nd), Manchester United (9 pts, 3rd place), Istanbul Basaksehir (3 pts, 4th)
From the day that this group was drawn it was labeled the group of death. One of PSG, Leipzig, and Manchester United would not be making it to the knockout stages. Each point was going to be crucial for each team if they wanted to play in the Round of 16. 
PSG, led by Mbappe and Neymar (pictured) and managed by now-fired manager Thomas Tuchel, looked like the strongest team on paper. Their blistering attack and solid defense provided a fearful balance. Although the French team started with a poor three points from three games, Neymar stepped up and led them to secure qualification, with 6 goals in their remaining 3 matches. 
RB Leipzing, who came in second, had a strong group stage performance. Other than one bad game away at Old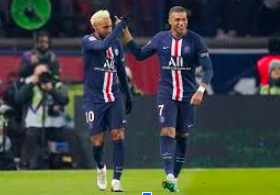 (Image courtesy of Bleacher Report)
Trafford and an expected loss against PSG they played well. Led by 33 year old German coach Julian Nagelsman, and their marauding wing backs RB Leipzing moved onto the Round of 16, although it did have to come down to the final matchday. They had to beat Manchester United to advance and they did in an exciting 3-2 win. Their best player throughout the six games was Angeliño with 3 goals and 3 assists from left back. 
Manchester United will definitely be disappointed with their group stage performance as they failed to qualify for the Round of 16 and were relegated to the Europa League. They lost 3 of their 6 games including an embarrassing loss against Instanbul Basaksehir. However, as mentioned earlier, they still had the opportunity to qualify in the last matchday but failed. They were led by Marcus Rashford and Bruno Fernandes who had 6 goals and 4 goals and 1 assist respectively. 
Manchester United fan Jacob Houser had this to say about his team's group stage performance: "I just wanna say that I have no words for their awful performance against Leipzing. And I am still wondering to this day how Ole is the manager of the club." 
Istanbul Basaksehir fans will not have much to think about– they did about how well as everyone expected them to. However they can hold their heads up high after their impressive win against Manchester United.