SEHS Student Ministry Persists During Pandemic
Student Ministry has had to change and adapt this year in many ways due to the COVID-19 pandemic. Since large group gatherings– especially indoors– threaten to spread the virus, Student Ministry-led Masses have shifted to an online live-streamed Mass that the entire school can participate in. The Ministry group began to meet in the summer to plan the theme of the school year– "Side by Side"– which is incorporated into our prayer during these masses. For many of the Student Ministry members, the retreat was the first time since the spring that they had seen classmates face to face. Meeting together in the summer, while operating under these new circumstances, began the in-person process of developing this idea for our theme "Side by Side." This selection of the motto or theme for the year is an annual tradition led by the Ministry. It appears throughout the school on t-shirts, posters, banners, and in our morning prayer announcements. The theme of "Side by Side" recognizes that we as individuals of a community will stand with everyone in unity and support our brothers throughout times like these.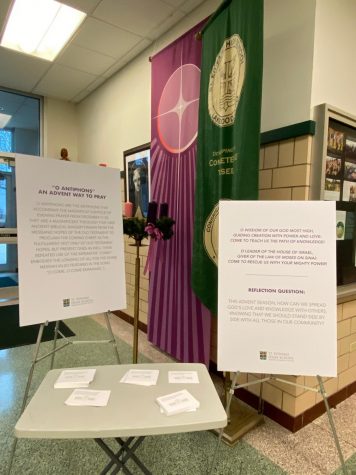 The ministry meets once a week before school to develop ideas for upcoming services. Mrs. White, the school Campus Minister, leads the group. Normally the ministers organize retreats for the underclassmen that involve spiritual outreach and connection with peers, but, due to the pandemic, adjustments had to be made to carry out this tradition. Instead of taking the retreats to an off-campus location, the retreats will now happen during the school day, with student ministers involved in classroom activities. 
At St. Edward High School, the Student Ministry group strives to strengthen the school community through its organized prayer and retreat efforts. Comprised of about 70 upperclassmen, the Student Ministry is not only one of the largest student organizations that St. Edward offers, but also has one of the greatest impacts on the community as a whole. The Holy Cross motto "Ave Crux, Spes Unica!," which translates to "Hail the cross, our only hope!", lays the foundation for the ministry as a model to live by. This phrase reminds us of Jesus' suffering on the cross, and how in our own lives we must bear our burdens, or "crosses,"  just as Jesus did for us. These efforts made by the student minister group to stay engaged and active in the community during COVID-19 are more important than ever.