Extracurricular Spotlight: St. Edward Investment Club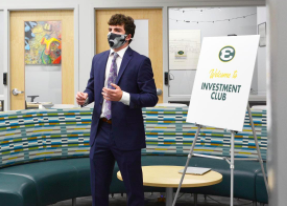 The St. Edward Investment Club has quickly established itself as the fastest growing club in the school, growing from 5 members in 2019 to 50 members in 2020. The Investment Club is led by Mr. Bob Schenosky, an experienced Financial Analyst who spent 20+ years on Wall Street, and who now passes on his financial knowledge to the students of St. Edward. From macro and micro factors of economics, to balance sheets, all the way to relating economic factors of certain sectors to modern day events like the COVID-19 pandemic and the 2020 Election, the club teaches students how to take a holistic approach in evaluating a company and its potential growth.
Investment Club began in 2019 and, after multiple fundraising efforts, was able to start an investment portfolio with $30,000. Since then, the portfolio has outperformed the market, even through the midst of the economic downturn brought about by the COVID-19 pandemic! The club teaches students how to analyze companies on the New York Stock Exchange with regards to their main competitors, their industry, and the market as a whole in order to evaluate what a company should be worth.
The uniqueness of the club does not lie in its establishment, as plenty of schools have an investment club, rather it comes from its unique learning and leadership structure. Schools who have investment clubs are usually fed ideas that have been approved by an overarching board of directors and then are tasked with assisting in the approval process. At St. Edward, students create all of the ideas. Students are encouraged to find a sector that they have an interest in, which is usually the ever-growing tech industry, and are tasked with using the analytic tools they have learned to create a convincing slideshow about why the club should buy the stock. If the club is convinced by the slideshow, it will go to Mr. Schenosky, who will decide whether or not to approve the stock into the portfolio. This leadership style allows for student-led creativity and interests to be highlighted, while still allowing for an experienced financial analyst to oversee the process to ensure the success of the portfolio.
For St. Edward students looking to go into some sort of business major, Investment Club allows them to get a small taste of the business world before making that big commitment. In my personal experience, my short time in investment club has allowed me to holistically think about businesses in a way I never had and has taught me a lot about the basic aspects of business management, which has increased my interest in potentially pursuing a business major in college.
Investment Club typically meets every Tuesday @ 7:15am in L201 for novice members and Friday @ 7:15am in L201 for advanced members. Email Mr. Schenosky at [email protected] for more information.