St. Edward Soccer Playoff Push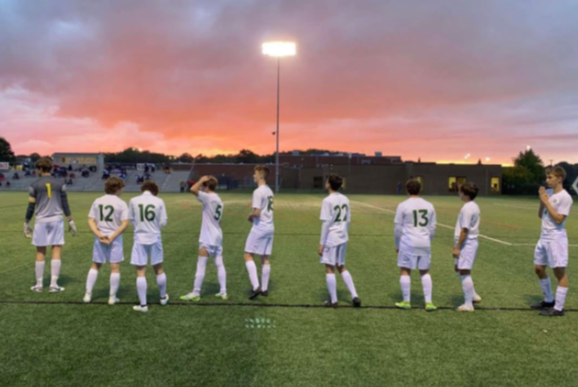 During a season which many people thought would be canceled or postponed, the St. Edward Soccer Eagles have attained a record of 5-4-3.  Wins have come against Anthony Wayne, Strongsville, Mentor, Wooster and Lakewood.  The Eagles fell to Archbishop Hoban, University School, St. Ignatius and CVCA.  The three ties include Olmsted Falls, Avon Lake and Shaker Heights.  On Saturday, the team celebrated its 10 seniors in a game against Shaker Heights.  In a hard fought game, St. Edward tied Shaker Heights 0-0.  However, the two teams will meet again in the first round of the OHSAA playoffs on October 24th.
Despite starting 0-2-1, the Eagles began to find their rhythm after a hard fought 1-0 loss to nationally ranked St. Ignatius.  The 1-0 loss to Ignatius marked the closest goal margin to the Wildcats in several years.  
Junior captain Dakota Jonke currently leads the team in goals with 4, and sophomore standout Ethan Pore is right behind with 2 goals.  In the last 9 games, the Eagles have allowed only 4 goals.  Junior Brenden Moher and senior captain Zoltan Nagy have both shared time in net as goalkeeper, making save after save.
On Monday night, the Eagles took on the Lakewood Rangers in the classic Community Cup.  After trailing 1-0, Dakota Jonke scored a header off a free kick to tie the game going into halftime.  Late in the second half, sophomore Liam Carey scored the game winning goal in an exhilarating game.  Monday night's win marks the first time the Eagles have a win percentage above .500.  The Eagles look to take the momentum into the last 2 regular season games against Solon and Walsh Jesuit and ultimately into the playoffs.