Meet New SEHS Faculty: Theology Teacher Mr. Matt Rentz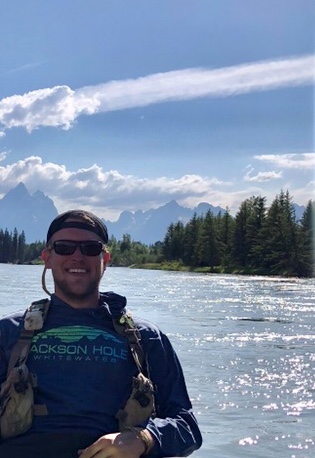 Edsman Staff (ES): What courses are you teaching this year?
Mr. Rentz (MR): Sacrament of the Church (Fall) and Morality (Spring)
ES: What are your interests outside of SEHS?
MR: In my free time I thoroughly enjoy the outdoors. Hobbies like fly fishing, hunting, and hiking have been passions of mine since I was a young boy. I also spend a lot of time in the kitchen cooking for family and friends. Sharing a meal with those close to me is one of the great pleasures in life.
ES: What is your educator philosophy?
MR: My goal as an educator is to challenge students to shift their paradigm; to have them consider the world they know in a new way. My hope is that my students will be empowered to approach the complexities of life with a nuanced and heartfelt vigor.
ES: What excites you about joining St. Edward High School?
MR: From what I've seen so far, Saint Ed's is a community that embraces diversity and nuanced thinking. So I think I'm most exited to be at a school that prioritizes my own values and also emphasizes close and healthy relationships between students and faculty.
ES: Who was your favorite teacher in high school? Why?
MR: Crazy to think about it, but honestly Chris Merriman was probably my favorite teacher when I was at Trinity High School. He was the first teacher I had that really challenged me to look at my own personal biases and experiences. He encouraged us to ask "why" and to really get into the fray of issues; to see things as more complicated then black and white. I'm eternally grateful for that and I hope to do the same for my students one day.
ES: How can St. Edward students be of help to you?
MR: Edsmen could be of help to me by introducing themselves to me and simply having a conversation. I feel the best way to serve people is to understand their needs and interests. The more I know these guys, the better teacher I'll be able to be for them.
ES: What does our school year theme "Side By Side" mean to you and your students?
MR: For me "Side by Side" presents itself as a personal challenge. We're in strange times no doubt, and we may feel physically and emotionally isolated because of this. However, "Side by Side" pushes us to not let physically distancing inhibit our duty to be emotionally and spiritually "next to" or "with" one another. The school's motto is a mantra we should keep in the front of our minds to ensure we are actively present for all Edsmen.
ES: Favorite Cleveland-area location? Why?
MR: The Rocky River Reservation is probably one of my favorite places in Cleveland. I spend a lot of time there, walking my dogs with my fiancé, golfing or fishing with friends, or just hiking around. It's a beautiful place to escape to and clear the mind.