Fire Up Monday (No. 14) – What a Weekend to Be an Eagle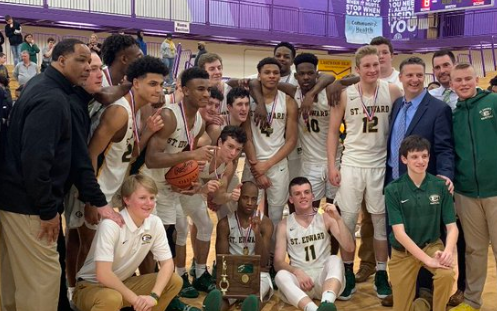 Monday, March 11th
WHAT A WEEKEND TO BE AN EAGLE! On Saturday night, the St. Edward basketball team won their third consecutive district title less than an hour before the wrestlers won their fifth straight wrestling state championship.
The wrestlers began wrestling in Columbus on Thursday, seeking their 37th state championship since 1978. After day one, the Eagles had a slight lead over Cincinnati LaSalle for first place. Friday night was the big night for the Eagles, as the wrestlers went 10-0 on the evening, stretching the lead to almost 30 points.
On Saturday morning, three Eagles competed in the consolation semifinals and finals. Junior Scotty Richter placed 5th, Sophomore Hudson Hightower placed 5th, and Sophomore Rich Delsanter placed 6th in the state. At this point, LaSalle cut the Eagle lead to within 8 points.
However, the Eagles had seven state finalists to compete on Saturday night, while LaSalle only had five. Of the seven finalists, three Eagles won: Bryce Hepner (138) won a huge head-to-head match over a wrestler from LaSalle, Sam Dover won (152) with a huge technical fall, and Paddy Gallagher (160) topped the No. 1 wrestler in the nation to clinch the title for the Eagles. Placing second were Sean Seefeldt (106), Angelo Rini (126), Bryce Andonian (138), and Seamus O'Malley (220). Great job men! Congratulations on ANOTHER title. What a model of St. Edward excellence!
While the wrestlers were competing in Columbus, the Eagle basketball team faced off against the Brecksville-Broadview Hts. Bees at Lakewood High School. Brecksville, who just completed an amazing four-overtime upset over St. Ignatius on Thursday night, headed into the District Championship with a lot of confidence. However, Thursday's thriller also left Brecksville tired for Saturday's game.
The Eagles opened up with a lot of energy in the first quarter. Meechie Terry did a great job of taking Kenny Ganley, Brecksville's star player, out of the game by face-guarding him. The Eagles took a 14-8 lead at the end of the first.
The second quarter is where the Eagles really started to kick it up a notch. After great defensive pressure and good three-point shooting, the Eagles took a 40-15 lead into the half. The last 2 points were emphatically highlighted by Meechie Terry's buzzer-beating put-back dunk (see video here).
Brecksville was able to chip away at the lead in the second half, but the Eagles finished strong and won 59-47. We advance to the Regional Semifinals against Euclid on Wednesday, March 13th at 8 P.M. at the Wolstein Center. Be there!
GO EAGLES!
~ Jack Loesch '19