Indians Sweep Rangers, Reaffirm Title Hopes by Max DiGiacomo '18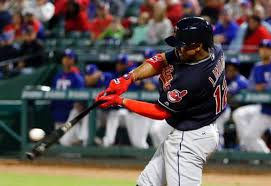 It has been quite the start for the 2016 American League Champion Cleveland Indians. The Tribe stole the first three games of the regular against a formidable league opponent in the Texas Rangers. The Indian's bats are clearly in World Series form, something that the team is not used to. Offense has typically been a problem in the regular season for the team, often losing close games that they should win because of their pitching.
A red flag was raised during the Indians first game on Monday. The team's ace, Corey Kluber got rocked by a Rangers offense that is missing its best hitter, Adrian Beltre. The bullpen, one of the best in the league as proven throughout the playoffs last year, came in and shut the Rangers down though. Andrew Miller made his first appearance and picked up right where he left off last season. This came as a surprise to anybody that watched the World Baseball Classic, where Miller struggled with control of his pitches. New addition Edwin Encarnacion reassured Tribe fans why the organization is paying him the big bucks, as he hit a moonshot into the stands of Globe Life Park. Carlos Carrasco put together a solid start in the 2nd game of the season, and the Indians stole a close one, 4-3 .In the series finale, Francisco Lindor stepped up to the plate as the Indians trailed by 1 in the 9th inning with bases loaded. He sent one into the bleachers of Globe Life Park and trotted around the bases, pumping his fist to the Indians bench and sending the Indians on to their next series with a season-opening sweep. 
The team's pitching has been mediocre at best so far, but it is still early. Those troubles can be fixed as the pitchers gain more experience and get back into form. The numbers for the Tribe offense should scare opponents, as the team is no longer one-dimensional is it had been in previous years. If the team can keep this up, a title should come as a surprise to no one.