MLB Pre-Season Power Rankings: Part 1 by Max DiGiacomo '18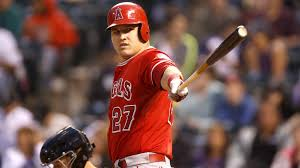 30. Cincinnati Reds- This is going to be an ugly campaign for the Reds. They have little talent around Joey Votto and a horrid pitching staff. It will take years for this squad to compete again.
29. San Diego Padres- a bright spot on this club is young slugger Wil Myers. Myers will not be enough to lead the Padres into contention.
28. Milwaukee Brewers- not enough pieces to compete in an always tough NL Central. The Brewers need to trade the aging talents they have for solid prospects.
27. Oakland A's- The team has started to enter rebuilding mode in the last couple years. The team still has some good players on its roster, but they need to be traded so the A's can make noise in the future.
26. Philadelphia Phillies- A few more ugly years to come for the Phillies. They have little offense and pitching ability on its current roster but have built a very strong farm system.
25. Los Angeles Angels- The Angels have future Hall- of-Famer Mike Trout but that is about it. The team has a terrible farm system and could be forced to deal Trout in the future, for a future.
24. Tampa Bay Rays- The Rays are always a tough team to beat but always find themselves near the bottom of the tough AL east. This year will be no different and they should consider trading Evan Longoria to a contender.
23. Atlanta Braves- This team has a a great core of talent to build around and could be a contending team for many years in the future. The move to a new stadium could rejuvenate the squad, which should start to look good by the end of the season.
22. Chicago White Sox- The team smartly moved into rebuild by trading Chris Sale. It adds a ton of young talent to a solid core that can be built around Jose Abreu. The team will struggle early on but could look sharp by the end of the season.
21. Arizona Diamondbacks- Everyone thought highly of the Diamondbacks going into last season. Things are much different this year and expectations will be much lower. The team could make a playoff push if it is without injuries.
20. Minnesota Twins- Young talent roams around this team which had some bright spots in its previous year. If the team can trade for some solid pitchers they could play meaningful September baseball in the near future.
19. New York Yankees- This team could have the brightest future out of all teams. The team could get bullied in the AL East but will win enough games to bring hope to fans and look solid by the end of the year.
18. Detroit Tigers- The team is slowly going into decline in a division that is wide open for a wild card berth behind the powerful Indians. The Tigers should see how things start off, and if things are bad they can get huge payoffs for players such as Jordan Zimmermann or Victor Martinez.
17. Miami Marlins- The Marlins are struggling to find an identity after the loss of young star Jose Fernandez. The team has the potential to play .500 ball if they can find leadership from a new youngster.
16. Kansas City Royals- Much like the Marlins, the Royals lost a young star of their own, Yordano Ventura. The Royals always compete and this year will be no different, they just do not have enough firepower to make October noise.