Cavs Midseason Report by Jack Schill '20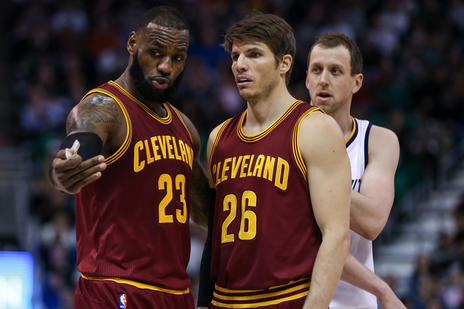 Midway through the season, the Cleveland Cavaliers record is 30-13 as they lead the Central Division and are #1 in the Eastern Conference. They are looking as expected after winning the 2016 NBA Finals and coming back from a 3-1 deficit against the Golden State Warriors. The Cavs roster looks the same with a lot of familiar faces, although, they've recently made the addition of veteran sharpshooter Kyle Korver, who the Cavs acquired through a trade with the Atlanta Hawks. As part of the deal the Cavs traded Mike Dunleavy, Mo Williams, and a 2019 protected first round pick. This trade benefited the Cavs immensely with J.R Smith being out with a right thumb injury for the next 10 to 12 weeks. Korver is renowned for the three ball and is currently shooting 40.9% from behind the arc and shooting 44.1% from the field. With J.R Smith out, Korver will likely start at the shooting guard position to fill his place. Adding Korver into the lineup will be a plus with LeBron James amazing passing ability ( averaging 8.3 assist a game), Korver will likely get a lot of open threes, and when he's open for three Korver shoots almost 50%.
An issue that the Cavs have with their roster is their backup point guard. Right now the Cavs are looking for a productive point guard to backup Kyrie Irving. Kay Felder has shown some potential as a solid point guard. He is averaging 5.5 points, 1.6 assists, and 1.4 rebounds out of the 19 games he has played in. On December 28 when Felder was assigned to the Canton Charge (the Cavs D-League team), he showed his potential again scoring 33 points, grabbing seven rebounds, and dishing out seven assists in his D-League debut. Kay Felder right now is the Cav's backup point guard, but Lebron James says, "We gotta get a point guard." Cavs have looked at several players for the role. One of the players that are a potential candidate is Rajon Rondo. Rondo right now sits on the bench  for the Chicago Bulls and is currently averaging 7.2 points, 7.1 assist, and 6.5 rebounds. There are rumors that he might be getting traded, and Cleveland may be a destination for him. Two other point guards that can fill in the role are Mario Chalmers and Norris Cole. What do these two have in common? They both played with LeBron and won championships with him when they played on the Miami Heat. Mario Chalmers last played for the Memphis Grizzlies and averaged 10.3 points, 3.8 assists, and 2.6 rebounds, while Norris Cole last played for the New Orleans Pelicans and averaged 10.6 points, 3.7 assists, and 3.4 rebounds.
Another issue with the Cavs roster is a backup bigman. The Cavs signed Chris Andersen to back up Tristan Thompson who is currently averaging 7.1 points, 9.9 rebounds, and 0.8 assists, but, Chris Andersen torn his ACL in practice and has been ruled out for the season. So now the Cavs lack a backup center. The Cavs have been putting Channing Frye in at the center position sometimes, but he predominantly plays power forward. There haven't been any rumors on the Cavs trading for a center, but they may do a trade for a center later near the trade deadline.
The Cavs are in a mid-season funk right now, having lost 6 of their last 10 games. This may be due in large part to finding their team chemistry with Korver in the lineup. Or maybe they're just bored and waiting for the playoffs to begin (or NBA All-Star Weekend).
If the Cavs can improve on the things they need to improve on, ball movement, consistent defense, and playing the game at their own pace, they can have a good chance to reach the NBA Finals and win the 2016-2017 NBA Finals.