LeBron Voices Frustrations About Cavs Lack of Depth by Max DiGiacomo '18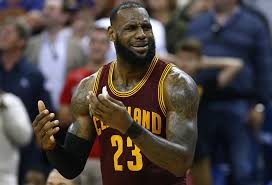 Following a 124-122 loss to a Anthony Davis-less Pelicans squad,  LeBron James voiced his frustrations with the depth of the Cavaliers roster. James pretty much said that he, Kyrie, and Kevin Love are the whole team and that they need more playmakers on the roster. These comments from LeBron were completely out of line. The fact that these comments came after this loss was absurd. The Pelicans are a terrible team and the Cavaliers had 3 of the top 30 players in the league out there for the game. The comment would have been more understandable after the team's 35 point loss against the Warriors.
The Cavaliers problem is not a lack of depth. The team has all the key pieces that it had last year, but they are playing nowhere near as good as last year's championship team. The team needs to rest their stars much more than they are currently. LeBron currently leads the league in minutes per game, despite Coach Lue stressing how key rest would be for the team during the offseason. All of the Cavs answers, and problems, are on their roster. New addition Kyle Korver has not looked great as a Cav so far, he has not gotten enough touches, but is also shooting his lowest field goal percentage since 2008 (Korver has only played 7 games so far). The Cavaliers need to rest their stars more and get Korver going to the all-star level he is capable of. LeBron should be complaining less and spending more of his time working on his alarming 4.2 turnovers per game. He also tries to take all the clutch shots for the team, but as we saw in June, the ball belongs in Kyrie Irving's hands in the closing seconds.