Indians Cause Blue Jays To 'Shake in Their Boots,' Advance to World Series by Max DiGiacomo '18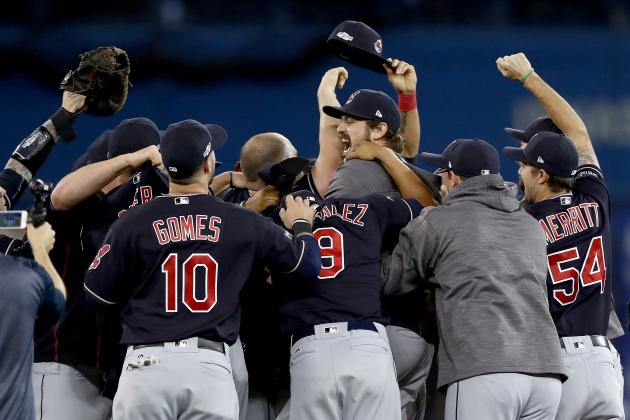 The Cleveland Indians defeated the Toronto Blue Jays  3-0 last night. This gave the Tribe their fourth win in a best of seven series, so they will advance to the World Series. They will have to wait to see how things shake up in the National League, with the Cubs and Dodgers fighting to face the Indians.
The Indians lost 1 out of 5 games against the Blue Jays. They led in almost every game, for the whole game, except for the single game they lost. The Indians World Series appearance is truly astounding, even for its faithful fans. The Indians lost starting pitchers Carlos Carrasco and Danny Salazar to injury during the season, as well as star outfielder Michael Brantley. The team never lost their identity following these injuries, they fight for every out and have an extremely strong chemistry.
Corey Kluber and Andrew Miller are the unheralded leaders of the Tribe. Kluber won the 2014 Cy Young and has a great chance to win the prestigious award again. He has proven that his production will not squander due to the pressure of the playoffs. Andrew Miller has just been absolutely nasty for the Indians since he was acquired near the trade deadline for #1 prospect Clint Frazier. His strikeout rate is stunning and he mixes his pitches unlike any other. It is safe to say Andrew Miller could be the greatest, most feared weapon in the playoffs. If the Indians grab early leads in the World Series, the opposing team will struggle to steal a win from them. Not only Miller has been great, the whole bullpen has.
The offense for the Indians against the Blue Jays was not great, but it was enough to move on. The Indians will not have the luxury of relying on pitching again in the World Series. Players will have to step up. Who will it be? Francisco Lindor, the Indians young superstar, or other playmakers such as Jose Ramirez or Mike Napoli? One player can not carry us– World Series winning teams are remembered for playing as a team and coming together. It will be a very exciting series, and most Tribe lovers cannot wait to see how this monumental season concludes.