The Return to Glory by Jared Ashdown '18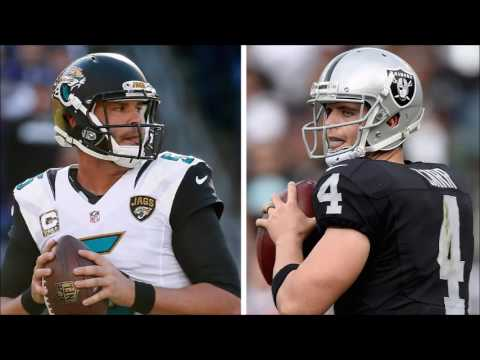 It has been 13 years since the Raiders last won a Super Bowl. In 2002, the Raiders beat Tampa Bay to win their 3rd super bowl in franchise history, since then they haven't even made the playoffs. 2 years ago the Raiders in the 2014 draft absolutely nailed it on two franchise players drafting DE/OLB Khalil Mack and QB Derek Carr. After flashes of greatness despite a lack of protection and wide receiver production, the Raiders decided to improve their weapons for Carr by drafting Amari Cooper and signing Michael Crabtree. In 2016 the Raiders and the Jaguars came into the off-season having massive amounts of cap space due to young rosters. Both came out the winners of free agency.
Here is why both teams will make the playoffs…
The key additions for the Raiders are the acquisitions of Sean Smith, Bruce Irvin, Kelechi Osemele, Reggie Nelson and the drafting of Karl Joseph and Shalique Calhoun. This gives the Raiders the second best offensive line along with a young great quarterback in Derek Carr who has weapons in Cooper and Crabtree and this offense looks great. Not to mention the defense that has an elite front 7 along with a really talented secondary. Jack Del Rio is a fantastic coach who knows what he is doing and the losses of Peyton Manning, Brock Osweiler, Danny Trevathan, and Malik Jackson create huge holes for the defending champs. Because of this, the Raiders will win the AFC west with a 10-6 season and will have home-field advantage for a wildcard playoff game. When taking into consideration the additions of Myles Jack, Malik Jackson, Chris Ivory, Tashaun Gipson, Prince Amukamara, and Jalen Ramsey, the Jaguars also have a young quarterback with two great receivers to throw to along with a formidable defense. Every year Gus Bradley has been the coach of the Jaguars, they have improved from the last. The Jags play in a division with a young Titans team that still has developing to do, a Colts team with an elite quarterback in Andrew Luck and that's about it, and the Texans overpaid on a quarterback who somehow struggled on an elite team and lost his job to a washed up Peyton Manning. Because of all these things combined, both of these teams will win their respective divisions.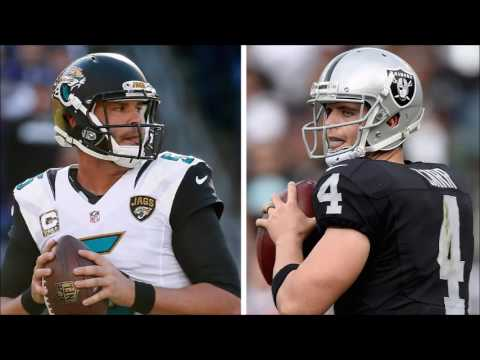 https://www.youtube.com/watch?v=qqO0Y5hB7HE