Bernie Sanders Details Plans for First Presidential Term by Dylan Zsigray '18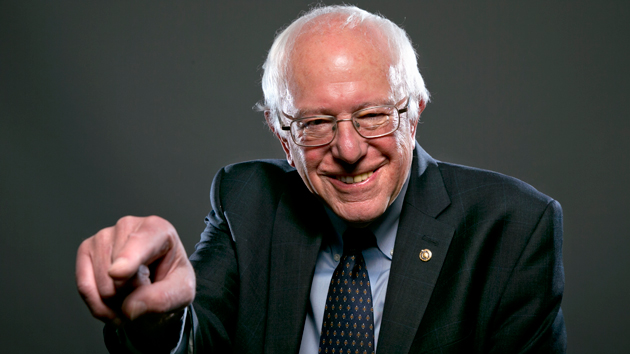 In a speech that drew close to 500,000 people, Bernie Sanders outlined to the American people his goals for his first term as President.  Although the election is still months away, Sanders seemed confident as he marched onstage with his folk album playing in the background. Sanders, who has recently gained a lot of momentum, is still far behind Democratic candidate Hillary Clinton, who has the majority of the Superdelegates on her side.  Within the campaign speech, which was set in the middle of Times Square in New York City, Sanders laid out three main goals that he hopes to achieve within his first term.
Sanders first touched on a topic that was very dear to the hearts of New Yorkers, which was the subway system. The subway, which first launched its underground system in 1904, has received numerous upgrades over the years.  The main aspect of the subway that Sanders hoped to change is that he wants to replace the fare cards with subway tokens.  Sanders, who originally grew up in New York, is sitting on a large fortune made up entirely of subway tokens.  Although the tokens are worthless as actual currency, Sanders stated that he does not want to let them go to waste.  Along with this, Sanders recognized the difficulty that some can have with using the fare cards.  Sanders pointed out that other US citizens, such as Hillary Clinton, cannot figure out how to swipe a card properly.  He reassured New Yorkers that using tokens instead will help fix this.  However, Sanders did not explicitly state how the coins will be reminted and emphasized that no one but him will touch his subway token fortune.
The second plan that Sanders laid out was his plan to give free college to all Americans.  This component of his campaign, which has resonated well with young voters, may seem impractical to some.  But, rest assured, as Sanders outlined the exact way that he plans to make free college happen.  First, Sanders is going to close all banks across the country and create one bank, the Bank of the United Socialist States. Through doing so, Americans will forfeit all their money that they have made and the FDIC will ensure that each family has enough money for basic necessities.  The extra money that is leftover will go into the "Bernie Sanders College-for-All Fund," a nonprofit owned by Sanders.  From there, the money will be distributed to college students that are not located in "the top 1%" [insert Bernie arm waving here].  When asked about how his plan would affect the national deficit, Sanders said that he was unaware that the national debt existed and that even if it did, the "American spirit" would help repay it.
Finally, Sanders told his supporters who he will be appointing in high-level positions within his cabinet.  One of Sanders desires for his cabinet is that it not be filled with big politicians.  Because of this, for the Secretary of State position, Sanders hopes to appoint famous actor Danny DeVito.  Sanders acknowledged the tremendous work that DeVito does to solve problems, highlighting the Nespresso incident with George Clooney that DeVito was able to solve.  For the Secretary of Defense position, Sanders wants to appoint Mark Ruffalo.  According to Sanders, Ruffalo has demonstrated a capability to defend the American people. Ruffalo also has boosted the iron industry and has developed new technologies.  Finally, for the Secretary of Homeland Security position, Sanders hopes to appoint Magic Johnson.  Although Johnson does not have any experience in politics, Sanders acknowledged that Johnson's height will be intimidating enough to those who want to harm the US. In the speech, Sanders did not touch on the other cabinet positions.
Bernie Sanders's speech laid out comprehensive and clearly well thought out plans for what he wants to accomplish within his first term.  Sanders seems to be very certain that he will win the presidency in November.  He is so certain, that he put his house in Vermont up for sale, and is living on his campaign bus that is parked outside the White House security checkpoint.  It will be up to the voters to see if they truly do "Feel the Bern."
*Note: this story is part of our Herbsman satire category.