What Rebuilding Year? Another Statebound Golf Season Recap by Nick Kinzel '16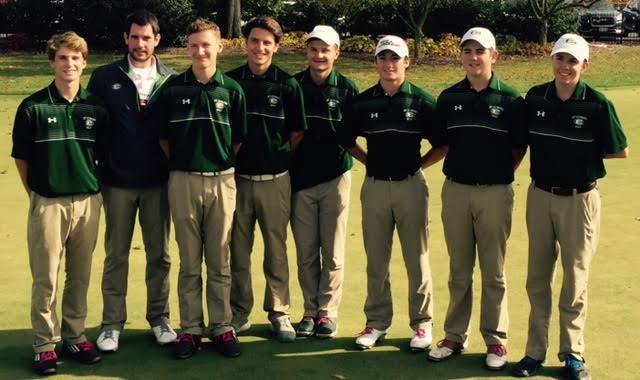 After losing some of the top golfers to graduation, the Eagle golf program was expected by many to have a rebuilding year in 2015. With only one senior continuously in the five man roster and a first year head coach, youth defined the roster. The regular season was highlighted by a 5th place finish at the Walsh Invitational, and a 6th place finish at the Hudson Invitational with scores of 318 and 316 respectively. The team had a 2-1 record in dual matches, which included a split with Rocky River High School, and a win against NDCL.
As the season progressed, the talent began to emerge as players became more comfortable and experienced. Players like Ben Gleichauf (Sophomore), Luke Seelie (Junior) and Jason Kopco (Junior) began to step up to help leaders Danny Zahn (Senior) and Danny Soucie (Junior). The first round of the postseason was the sectional tournament at Sweetbriar Legacy in Avon Lake, where they needed a top four finish to advance. They finished third with a score of 313, a season team low score where Zahn, Soucie, and Gleichauf all broke 80. Next was the district tournament at Pine Hills Golf Club. Gleichauf had the round of the year in his first district appearance, with a score of 73 (2-over-par) to lead the Eagles to their fourth straight appearance at the state tournament. They finished again with a season low score of 307, good enough for fourth place. The two-day state tournament was held at Ohio State's Scarlet Course, a place very familiar to the St. Edward golf program. While the scores were not as low as hoped for, the Eagles managed a 10th place finish with a weekend total of 689. Next year, returning golfers will look to use this experience to keep the state qualifying streak alive for St. Ed's, and senior Danny Zahn will be playing college golf at an undecided school.