NEGU is For Us Now– Let's "Kick It"! by Tommy Fox '16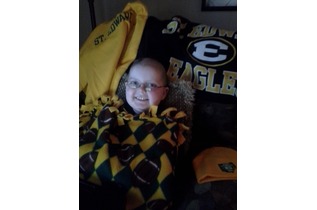 Dear St. Edward Community,
As the St. Edward Eagles begin what we hope will be a long playoff run
this Saturday
, the team wants to challenge the St. Edward Community to help others as you cheer for your favorite team.
Throughout the season, the Eagles have been participating in "Kick-It for Cancer" –a fundraising initiative that allows fans to pledge a specific dollar amount for every point scored in the kicking game.
After a 9-1 regular season, the kicking team has scored 61 points.  With our sights set on a long playoff run, every point will matter not only on the field, but in the fight against childhood cancer.  In honor of St. Ed's biggest fan Michael "Big Mike" Orbany, "Kick-It" is not only about raising money, but keeping the spirit of NEGU– Never, Ever Giving Up– alive in the St. Edward Community.
Please share this Kick-It message so we can use this playoff run to bring hope to others.
Go Eagles!!!