Eagle Golfers Statebound to Columbus by Nick Kinzel '16
Photo: Head Coach Josh Nugent and Sophomore Team Medalist Ben Gleichauf '18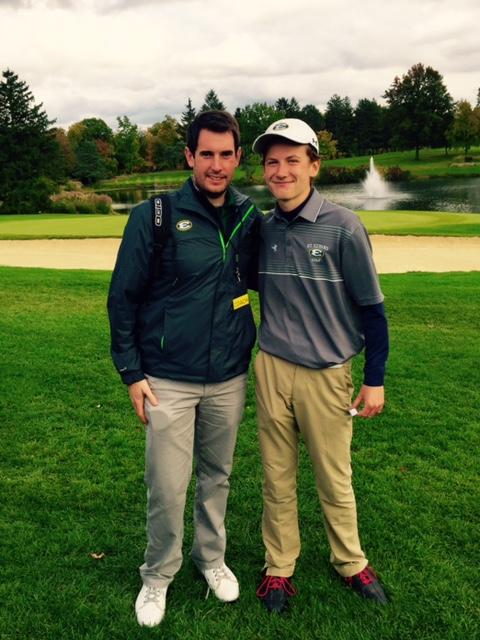 As the golf season is coming to its end, the St. Edward golfers find themselves doing what any team hopes for: playing their best during playoff time. The Eagles advanced out of the sectional tournament at the Sweetbriar Legacy Course with a score of 313, their lowest team score of the year up to that point. Senior Danny Zahn and junior Danny Soucie led the way with scores of 77 and 76, respectively.
The district tournament at the par 71 Pine Hills Golf Course was next. Even with the typical cold and rainy conditions coming into play, the Eagles started on pace for a record day. Sophomore Ben Gleichauf, performing at his first district golf tournament, fired a front nine score of 34, while Zahn began his round with 13 straight pars. Ben ended his day just 3 shots behind medalist with a stellar score of 73, followed by Zahn at 75, Soucie 77, and juniors Jason Kopco and Luke Seelie with scores of 82 and 85. Their new season low team score of 307 was good enough for a 4th place finish, and one of five tickets punched to the state tournament that day. Medina won the district with a score of 302.
Zahn says of playing in his fourth straight state tournament, "It's something not many people get to do. The team came out clutch today, and I owe my successes all to them and the whole St. Edward Community." In terms of preparation, the team has some typical light practices scheduled, but will really be focusing on tuning up mentally. Zahn says, "If I've learned one thing from my experience, it is that it is all about having fun and enjoying the experience. If we go down there focused on the 100 plus fans watching us tee off instead of just playing our game, we're going to struggle."
The Eagles, led by first year head coach Josh Nugent, will be competing in their fourth straight state tournament at Ohio State's Scarlet Course October 23rd and 24th.