St. Edward Community Kicks Records in Kick it Event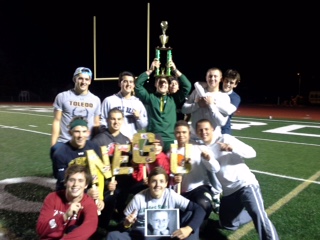 Adam Jankowski '15
On a chilly Sunday afternoon, the backyard was buzzing with excitement.  No, it was not a football or soccer game.   Instead, it was the second annual Kick-It for Cancer event held at St. Edward's High School.  Along with kicking many home runs, the students were also able to kick many of last year's records.
This event was brought to the St. Edward community by the Orbany family to raise awareness and money for fighting childhood cancer.  Matt Orbany '15 and his family lost the life of 9-year old Michael to brain cancer in May.  In memory of Big Mike, Mrs. Orbany brought one of his best friends to the event.  This served as a friendly reminder to everybody that cancer effects more than just the family of those who are ill.
This event was hosted and organized by a new club at St. Ed's: the St. Vincent de Paul Society.   This club specializes in service projects that deal with face to face, or direct service.  Mr. Kubrak is the faculty leader of this group. Noah Kuemerle '15, Adam Jankowski '15, Joey Litten '15, Chris Sekerak '16, and Blake Wilson '15 serve as officers and are the founding members of the school's chapter.  This group did a fantastic job promoting the event; all of the records from last year's event were smashed.  The event raised over two thousand dollars for childhood cancer research.  Also, attendance more than doubled from last year's event with 17 teams showing up to play.
The event itself was simple.  There were eight bases on the field with music, cornhole, and grilling going on at the Kahl patio.  While only four teams were on the field at a time, all the other teams sat and cheered for their classmates.  It was a great to see so many kids at school on a weekend for such a great cause.
As the night got longer, the list of teams got shorter.   At around 8 o'clock, only two teams remained standing.  Team NEGU came out of the game victorious.  Mike Orbany's brother, Matt Orbany '15 was on this team.  He posted a photo of his team on Instagram  with a caption that read, "Team NEGU got it done.  That one was for Mike."
We made a big effort to bring awareness to childhood cancer with all of the support from the St. Ed's community.  As we continue to support the Orbany family and all of those who are effected by cancer, please be aware of all the things that are going on around the school to support the fight against cancer.  Jack Ryan '16 designed pink t-shirts that will be worn at a few sporting events in October in support of Breast Cancer Awareness Month.  Also, at the end of the year, the Clips for Cancer event will be taking place.  Thank you to all the Eagles who continue to help support the battle against cancer.