Exclusive Interview with Coach Duffy

Ryan Ashdown '16
Over the past few years, soccer has truly grown in the St. Edward community as support from students and alumni continues to increase.  The man and leader behind it all, Coach Jim Duffy, is in his second year as varsity head coach. Coach Duffy sat down to answer a few questions before his extremely talented team looks to make a run in the playoffs to win the school's first soccer state title.
Ryan Ashdown (RA):   Coach, what is your favorite part about coaching high school soccer?
Coach Duffy(CD):   My favorite thing about high school soccer is the energy that comes from the fan base. The boys enjoy playing for the name on the front of the jersey. Everyone on this team is so talented and it's amazing to see them function as a team.
RA:   What is something that not many people may not know about you?
CD:   I have 20 years of corporate business experience. Something else people may not know about me is I have played and coached soccer for 35 years and learned the game from my father who played professional soccer in Scotland.
RA:   What do you expect from the team the rest of the year?
CD:   My expectation from the boys is continued hard work to reach their goal. We want to get to the state championship game and help build a legacy for the future.  They have to focus on their performance and strive for excellence. We have to give 100% effort every single game.
RA:   What is your favorite thing about St. Edward High School?
CD:   I love how we live out the Charisms of Holy Cross. In the classroom the young men of St. Ed's are encouraged to change the world through faith and good works. Through the diversity of the St. Edward community, we come together as one.
RA:   And finally, what does the student section mean to the team?
CD:   The student section plays an extremely important role in our games. It elevates our level of play. We need them. We hope they come support us in the playoffs.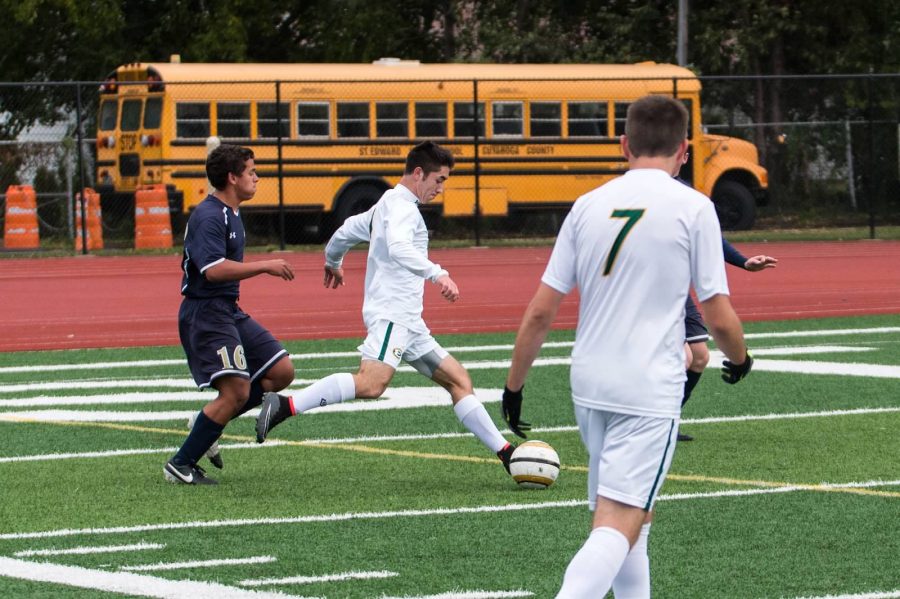 The Eagles have had two outstanding playoffs runs the past two seasons, highlighted by beating St. Ignatius both times in the district final with each game ending in penalty kick wins for the Eagles.  St. Ignatius, along with many other local teams, present a strong challenge to the Eagles and are standing in the way of a first coveted state title. The team, led by Coach Duffy and his assistants, want your support. Be sure to go to games and be loud!