Americans Look for Victory in Sochi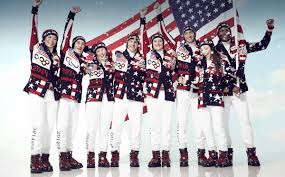 By Maximilian Caliguire-Maier '15
Every four years, many Americans await with anticipation for the Olympics and rally behind national sports figures in hopes to enjoy some moments of victorious patriotism. Aside from delayed construction on accommodations and concerns about terrorist attacks in Sochi, the olympics are sure to impress the world. Taking place from February 7th till the 23rd, an estimated 2,800 athletes will be representing 88 nations in 98 events in 7 sports and 15 disciplines: Alpine skiing, biathlon, bobsled, cross country skiing, curling, figure skating, freestyle skating, ice hockey, long track speed skating, luge, Nordic combined, short track speed skating, skeleton, ski jumping, and snowboarding.
Due to concerns about a previous injury, Olympic snowboarding champion Shaun White,  has pulled out of the new slope style event. This decision was also influenced by the injury of Norwegian Tortsein Horgmo, who broke his collarbone on this concerned yet aggravating course. The Americans have little hope of any medals in alpine skiing, as Lindsey Vonn is absent and Bode Miller is coming off a lost season. However, American chances at biathlon are greater for Tim Burke's for his silver at last year's World Championships got everyone's attention. Bobsledder Steve Holcomb's record of global championships proves that he may end up on the podium. Reigning world champs in cross country skiing, American Kikkan Randall and Jessica Diggins are the world's best women's sprinters. If they win, it will be the first victory for Americans in this event since the 1970s. Curling was not one of the American's best events at the last Olympics in Vancouver, Canada but Erika Brown was close to a medal win at last year's World Championships is something to consider. American men and women figure skating prospects look poor, as well, whereas world champs Meryl Davis and Charlie White in ice dancing could be victorious. After winning four medals in free style skiing in Vancouver, Americans – Devin Logan, Maddie Bowman, Aaron Blunck, Nick Goepper , Maggie Voisin, Hannah Kearney and Patrick Deneen – are set win again.The Americans missed the ice hockey gold by one goal in 2010. So, they will look to challenge the competetion. Based on past and recent wins, the Americans – Shani Davis, Heather Richardson and Brittany Bowe – have a fairly good chance at long speed skating. Since 2002, the Americans have not made the medal stand on the luge. However, former world champion Erin Hamlin with Chris Mazdzer has returned. Americans monopolized the medals in Nordic combined in Vancouver and will attempt to continue to do so in Sochi with Billy Demong, Todd Lodwick, and brothers, Bryan and Taylor Fletcher. Retired Apolo Anton Ohno and Katherine Reutter dominated the Olympic Games in Vancouver in short track speed skating, leaving the Americans a bit short on depth for 2014. Pikus-Pace and Matt Antoine hope to rekindle American victory in the skeleton. Although the American men do not have a chance to win in ski jumping, global champs, Sarah Hendrickson Lindsey Van, do.
The Americans have a strong historical record of wins at Winter Olympics, but will have to continue with the contention of the Russians, Scandinavians, Germans, Austrians, Swiss, Canadians and the Chinese as well as the Japanese in Sochi this year.