Meet Mrs. Edelman
Greg Margevicius `16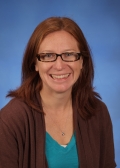 Last year midway through the year St. Edward made a decision to hire Mrs. Edelman for a position in the Social Studies department.  She currently teaches World History and Modern World History in class, and out of class she co-moderates Model United Nations and is the assistant Cross Country coach.
Mrs. Edelman is originally from the West side of town.  Then after college she moved to D.C., then to Philadelphia and is now back in the Cleveland area.  Mrs. Edelman has been a teacher for 13 years and has taught middle and high school.  In the D.C. metro area she married and describes her two children as "wonderful."
Mrs. Edelman says St. Ed's has been a welcoming community thus far.  The students made her feel welcome from the first day in the classroom and there was also a smooth transition for both her and the students.  Mrs. Edelman plans on bringing a warm friendly face that challenges students to do their best and think outside their comfort zones.
Mrs. Edelman's previous job was teaching as well, so there are a good amount of similarities.  In her last job she also taught freshmen and seniors so there are similarities in that.  She doesn't really know whether she likes teaching at an all-boys Catholic high school more than at her old school.  She finds that both schools have their own unique challenges and benefits and enjoys her job.