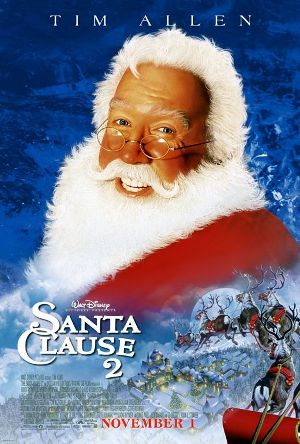 Joseph Unger '15
When a movie producer decides to do a sequel, the idea should be well thought out; he should consider the value in making the movie on a level of audience appeal and makes sure that the script is well written with a new and explorative flavor while still making viewers feel it is very much connected to the original.  This could have been done with The Santa Clause 2, but unfortunately the only value Disney saw in making a sequel to the original film was the potential monetary value from milking another wholesome family movie.
The Santa Clause 2 is a sequel that deals with the new trouble that enters the life of Scott Calvin (Tim Allen), who has been the Santa Claus for 10 years after accidentally killing the previous one by scaring him off the roof of his house.  All has been well until Scott starts reverting to his original self and finds out that in order to stay Santa he must find a wife, Mrs. Claus.  On top of that, Scott finds out his son, Charlie (Eric Lloyd), has turned into a trouble making teen now on the naughty list.  Antics continue at the North Pole while he is gone, as the head elf creates a substitute Santa whose intentions soon turn sinister, as he decides that all children must be placed on the naughty list.
The Santa Clause 2 has earned a spot at number 22 on our list for a number of reasons. Firstly, its inability to even coming close to matching the quality of the original movie holds it back from a higher spot.  The original had a central theme of the wonders of believing in Santa Claus and the endless limit to a child's imagination, while the sequel revolved around Santa Claus hooking up with a new girl and dealing with his slightly estranged son.  Of course, this sequel did have a theme of maintaining one's inner child during the Christmas season, an idea which was also explored in the first movie, thus making the film live in the shadow of the original.  Another major issue I had with this movie was the lack of subtle adult jokes that the first one contained, which made the film easier to see for adults.
If you are a fan of the original, this is a decent movie to watch, provided you accept you will only want to watch it once (just stay away from Santa Clause 3). Keep reading as we move down the list, as we will explore better holiday releases.